Why I Fast: An Interview with Korean Monk Pomnyun
by Jeong Taesoo, New America Media, Jul 29, 2008
Half of the population of North Korea doesn't have enough to eat, according to 55-year-old South Korean Buddhist monk Pomnyun, who has been fasting since May 26. Pomnyun, the 2002 winner of the Ramon Magsaysay Award, dubbed the Asian Nobel Prize, was interviewed by Korea Times-San Francisco editor Jeong Taesoo.
Maricopa, CA (USA) -- Famine is estimated to have killed 2 million people in North Korea since the 1990s – nearly as many as the 2.5 million people reported killed during the Korean War.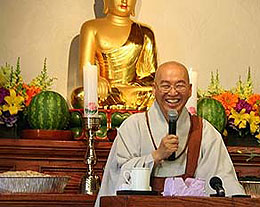 Now food aid, which represents most of North Korea's imports, might decrease because of higher costs of food and transportation.
The United States promised in mid-May that it would provide 500,000 tons of food, of which 37,000 tons of wheat were delivered to North Korea in late June. And according to the newspaper Tokyo Shimbun, China has already sent 50,000 tons of corn to the needy country. The rest of the promised "bread of life" won't be sent until September.
That's why South Korean Buddhist monk Ven. Pomnyun is appealing to his government for immediate, unconditional food aid to the North. On May 26, he began fasting to "feel the same pain as North Koreans," "keep seeking ways to help them out" and "to impress heaven, so that under these adverse circumstances, a miracle can happen to stop their starvation."
South Korean President Lee Myung-bak proposed in his July 11 speech that "full-scale dialogue between South and North Korean authorities must resume."
Ven. Pomnyun launched a petition campaign on July 8 to collect 1 million signatures to help bring food aid to North Koreans. But the July 11 shooting of a South Korean tourist in North Korea has further strained relations between the two countries.
The 55 year-old practitioner is still fasting, surviving on nothing but water and salt. He told Korea Times-San Francisco editor Jeong Taesoo that he has no plans to stop his fast.
What motivated you to fast?
There are many North Koreans starving to death. However, the conflicts between the South and North Korean governments, and their indifference, gave rise to this grave problem. The South Korean government says it can provide emergency food to North Korea only when they request aid. But the North Korean government says it would rather let their people starve to death than ask South Korea for help.
In addition, civic groups in South Korea are fully committed to candle-light protests against the resumption of American beef imports, and South Koreans are going through a tough time with higher prices of oil and goods.
No matter how fiercely we appeal to the country with this serious issue of North Korean famine, nobody seems to be concerned about the problem. North Korea is such a closed society that nobody outside can see or hear the outcries from the suffering people.
But aren't the six-party talks going to help the situation?
The six-party talks are only focused on the issue of North Korea's nuclear weapons programs, and the mass media shows little, if any, interest in this issue.
There was no way to stop North Koreans' starvation. Under these circumstances, I decided to fast for the following reasons.
First, while fasting, I am willing to feel the same pain as North Koreans suffer. Secondly, by fasting, I will not forget about their suffering and will keep seeking ways to help them out. Lastly, I have to pour all of my energy and heart to impress heaven, so that under these adverse circumstances, a miracle can happen to stop their starvation.
What is the current state of North Koreans' famine?
They are dying of hunger. Whanghae and Kangwon province are the most seriously affected areas, and all areas other than Pyoungyang are in a similar situation.
Ten million people – that amounts to the half of North Korea's population – suffer from food shortages, and among those ten million, about 3 million people are in danger of starvation.
The present situation is not as serious as what happened in the mid-1990s, when 3 million people actually died of hunger. However, without any urgent measures, it is estimated that 500,000 to 600,000 people will starve to death by September.
North Korea is said to be the world's most closed country. How are you able to get information on what s happening there?
We have been helping more than 20,000 North Koreans so far. Across North Korea many people are grateful for our help. Furthermore, we do not cover any military information – just but information on their life, so the information providers feel less afraid.
You have been fasting for more than 40 days, but carrying on with your daily routines as usual. Might this be the reason you are drawing less attention from the public?
Why would I fast if I needed to lie down? Fasting is for me a way of focusing my mind. I pray to help North Koreans during fasting. My lying down will bring nobody to help me. I am not fasting to attract people's attention, or protest for a certain demand. I just appeal to people to help North Korea. Criticism will get you nowhere.
What do you take in during your fasting period, for example, how many glasses of water?
I am not sure how much water I drink. I seem to drink more than usual, probably two liters. I have nothing else to take in but water, and I take in salt too.
How much longer are you going to keep fasting?
I won't stop until I think I need to finish praying. If I cannot control myself, I should stop.
What is your evaluation of citizens' response to relief efforts in North Korea?
They help when they become aware of severe famine in North Korea, but most of them do not know what is going on there. They seem to be way too busy with their own lives and are reminded of nuclear weapons programs first when it comes to North Korea.
What would you tell those who do not want to help North Korea because it develops nuclear weapons programs and launches missiles?
It is North Korean leaders that have developed nuclear weapons programs and missiles. But it is innocent North Korean residents who suffer from starvation. They include children, the elderly, and the poorest in the country and urban areas. We intend to save these poor people that even the North Korean government has disregarded.
Do you have any message for Americans?
In this abundant time and age of the 21st century, there are people dying of hunger, unable to get a handful of corn. It is even more unbelievable that not a few but hundreds of thousands of people are suffering from hunger. This is the reality that North Koreans are facing now. Regardless of the North Korean government's attitudes, we should save these suffering people.