Spiritual passion
By CATHERINE SIOW, The Star, August 11, 2008
Penang boy Lye Hun Yeow has a great fascination for the life of the mind and just can't help sharing it with others
North Carolina, USA -- WHEN other people's children were returning home to be lawyers, accountants, doctors or some other profession, Dr Lye Hun Yeow's parents couldn't fathom why their son couldn't seem to stop studying or what he was going to do with his qualifications, but they never held him back.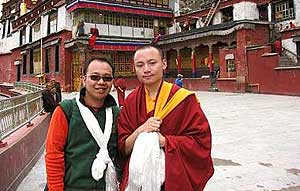 << Dr Lye Hun Yeow with a young Tibetan rinpoche at Drigung-til Monastery in Central Tibet, during a study trip in summer 2007.
"The more I think about it, the more incredible I think my folks are. When I graduated with my BA, I told them I wasn't coming back just yet, that I wanted to continue pursuing my education. Even though they didn't quite understand why I needed to study more, and what I was going to do with history, religion and culture, they never stopped me," says Lye in an e-mail interview.
The 38-year-old Penang-born, who is currently assistant professor in the Department of Religious Studies, Warren Wilson College, in Ashville, North Carolina, the United States, never thought he would end up being a teacher of religious studies.
"When I left for the US to pursue my bachelor's degree in 1989, I had no idea this is how my life would unfold. I thought it was going to be a straightforward four years of studying in the United States, come back with a degree in something marketable, get a good job and settle down. But, karmic winds did not blow that way for me.
"When I started college, I was captivated by the life of the mind, by the intense intellectual inquiry I found in academia and I just couldn't stop. I was delving as much into religion as I was into history and culture. In my third year of college, I went to London to do what's known in the the United States as junior-year study abroad. That year further opened up my intellectual horizons. I was hooked," says the academic who obtained his BA in Communi­cation Arts and Religious Studies (1993) and MA (1999) and PhD in Religious Studies (2003), all in the United States.
The calling
Lye, who was attracted to mythology, religion, spirituality and culture from young, has been teaching at Warren Wilson College for the last five years. This month, Lye takes up a new position at Davidson College in Charlotte, North Carolina, which is considered one of the "top 10 liberal arts colleges" in the United States.
"Although I've played leadership roles in high school and given lectures as a student-leader of Buddhist organisations, it wasn't until I started my PhD programme that I formally got into teaching. And that was probably when it became clear that indeed it's teaching that I enjoy doing.
"It was also then that it dawned upon me that getting a PhD in Religious Studies would allow me to not only have a career and a relatively comfortable life, it would also provide me with the best circumstances to spend all my time reading, thinking and writing about religion, Buddhism, ideas, practices, doubts, life, death, and beyond!" says Lye who has presented various research papers, including The Liturgy of Feeding Hungry Ghosts and Funny, You Don't Look Esoteric Buddhist: Chinese Esotericism in the Late Imperial Period.
The passionate teacher keeps a packed work schedule.
"In the last five years, I have taught six courses each academic year, organised and led two college-related study trips to Central Tibet, put together a ritual art exhibition, and given lectures and presentations at Harvard, Columbia and other universities and professional conferences. I have also been involved in supporting the spiritual lives of students and staff at the college and participated in various college committees such as the Diversity Task Force, Student Life Committee and Spiritual Life Committee. In particular, I had the opportunity to start a Buddhist organisation known as -BE- that brings together staff, faculty members, students as well as members of the larger community. -BE- is currently one of the most active groups on campus (bewarrenwilson.blogspot.com).
Lye has also organised various Buddhist seminars regionally.
"Since I completed my PhD, I've had the pleasure of organising several academic conferences dedicated to Buddhist Studies. With the support of (international monastic order) Fo Guang Shan, I've organised two conferences – one that brought together an international group of scholars specialising in Chinese Buddhism and the other a conference for doctoral-degree candidates in Buddhist Studies.
"I'm now in the midst of organising another conference on Chinese Buddhism – again with Fo Guang Shan – for this September. It's part of the 20th anniversary celebration of the founding of Hsi Lai Temple by the Venerable Master Hsing Yun in California."
Lye, who returns to Penang almost every year, was also the organiser of an inter­national conference held in Penang in August 2006.
"It was the First International Buddhist College Buddhist Studies Conference, sponsored by Venerable Wei Wu of Than Hsiang Temple in Penang. As a Penangite, I was particularly proud of the fact that such an event was held in Penang. Although Penang and the rest of Malaysia have played host to many Buddhist conferences, the Than Hsiang conference was probably the first academic conference on Buddhist Studies in the area – thanks to the foresight of the abbot."
Fulfilment
Currently, Lye is looking forward to this summer's adventure – taking 15 friends to Ladakh, India, then spending time with his parents back in Penang.
"What I miss most about Malaysia is, of course, the family. And the food and familiarity – there's something about the feel, tenor and flavour of Malaysia that is cosy and intimate even though I've now lived for more years in the United States than I have in Malaysia," says the bachelor who has an older brother and a younger sister "who are both happily married".
And with all the religious studies he has been doing and teaching, has he ever considered becoming a monk?
"Umm, no ... it'll be disastrous! With all my various interests and attachments – which include brewing and sipping tea (mostly but not limited to pu-erh tea), salvaging and saving unwanted, old Chinese deity statues, collecting and burning delicate incense (Tibetan and Sino-Japanese-Korean types), driving around in search of tasty food of various nationalities, and sampling exotic cheeses, artisan breads and exquisite olive oil – I'll probably make a bad monk!"
Perhaps the karmic winds are not blowing that way for Lye, but one thing we can be sure of is that this adventurous lecturer gets immense satisfaction from teaching. "Especially when I see how students in my courses transform from being passive recipients to active learners, when I get to see again and again that sparkle in the eyes of a handful or even just a couple of students who for a moment recognise the unknown and unsettling as familiar and yet exciting," he says.