Embracing Her Spiritual Awakening, Amy Winehouse Turns to Buddhism
Aceshowbiz.com, September 2, 2008
Britain's The Sun reported that she's using calming Buddhist chants to help her relax and battle stress which will then enable her to kick off her drugs and alcohol addiction.
London, UK -- Being threatened with legal action for pulling out of a French music festival just a couple hours before it was due to start, Amy Winehouse apparently has embraced her spiritual awakening. She reportedly is turning to Buddhism to have stability in her messy life and most of all to beat her addiction to drugs and alcohol.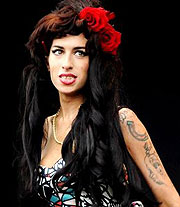 << British rock star and multiple Grammy award winner Amy Winehouse
Facing a string of health issues over the last year and having been diagnosed with traces of deadly lung disease emphysema, Amy is said to have been battling her addictions by using calming Buddhist chants to help her relax and battle stress. Britain's The Sun newspaper broke the news and was told by a source that one of Amy's musicians introduced her to "Buddhist chanting." She has since chanted "for ten minutes in the morning and just before she sleeps."
"Amy has also been watching the interview clip of Tina Turner on YouTube and she reckons it's already affecting her in a positive way," the source claimed, adding that the troubled singer "has a string of Buddhist beads that she chants with, which she keeps in a red silk scarf. She says chanting is filling her life with positivity while she is trying to sort herself out."
Amy pulled out of a scheduled appearance at the Rock En Seine festival on Friday, August 29. She informed the festival's organizers that she would not be appearing at the last minute before the festival was kicked off. Bosses of the festival reportedly have been planning to start legal proceedings against Amy due to the sudden cancellation.
There has yet comment from Amy or her people about report on her turning to Buddhism and being sued by the bosses of the Rock En Seine festival. Singer Tina Turner, on the other hand, turned to Buddhism after she split from her rocker husband Ike Turner in 1975.