Thubten Norbu, eldest brother of Dalai Lama, dies
By Douglas Martin. IHT, September 9, 2008
Bloomington, Indiana (USA) -- Thubten J. Norbu, the eldest brother of the Dalai Lama and himself regarded as a reincarnated saint, died Friday in Bloomington, Indiana. He had split with his pacifist brother to demand complete independence of Tibet from China, going so far as to help the U.S. government in covert guerrilla warfare.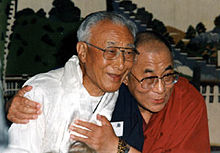 << Norbu (1922 - September 5, 2008) with brother Tenzin Gyatso, in 1996
He was 86 by the Western reckoning and 87 in Tibet, where he was born, said Terry Norbu, his daughter-in-law, who confirmed the death.
After being recognized at age 3 as the reincarnation of a high lama, a revered priest in Tibetan Buddhism, Norbu became a leader in his small country's political battles, first in Tibet and then in the United States. His role owed much to the identification of his brother, 13 years younger, as the reincarnated Dalai Lama, traditionally the leader of both Tibet and its religion.
Norbu became abbot of Kumbum Monastery at 27, a young age for such a position, and soon was caught up in the trauma of the Communist invasion of Tibet in 1950, an action that China contends was justified on many grounds.
After Communist troops took over Kumbum, in what is now China's Qinghai Province, formerly the eastern Tibetan region of Amdo, Norbu came under pressure to discredit or otherwise help get rid of his brother.
Instead, he went to Lhasa, Tibet's isolated capital, and escaped his Chinese overseers in order to warn his brother, soon to be invested as the Dalai Lama, of the seriousness of the Chinese threat.
"I gasped as he told me this," the Dalai Lama wrote in his autobiography, "Freedom in Exile," published in 1990. "I had almost no knowledge of the Chinese. And of Communists I was almost entirely ignorant."
Norbu told his brother that he would renounce his monastic vows and go abroad as Tibetan emissary. The Dalai Lama chose to stay and fulfill his destiny, though he would move to India in 1959 to establish a government in exile.
In exile in India, Norbu approached the CIA, the U.S. spy agency, which agreed to support Tibetan resistance fighters. He later helped as a translator during training sessions for guerrillas.
In 1955, he arrived in the United States to seek citizenship, perhaps the first Tibetan fleeing communism to do so. He was the highest member of the Buddhist priesthood in the United States.
He used this prominence to speak out against atrocities he said the Chinese were committing. Tibetans with horses fled to the hills, he said in an interview with The New York Times in 1959.
"Those who are left - the old, the very young and the women - are machine-gunned by the Chinese," he said.
His bitter verbal attacks against the Chinese were almost the mirror image of the Dalai Lama's tolerance.
Tibetans, particularly exiles, generally support Norbu's hard-line approach, said Robert Barnett, director of modern Tibetan studies at Columbia.
As a result, Barnett said, the hospitalization of the Dalai Lama and one of his top lieutenants "signals that time is running out for the Chinese to make a settlement" with the moderates.
Norbu was born to a farm family in a small village in eastern Tibet as Tashi Tsering on the 16th day of the eighth month of the Water Dog year, or Aug. 16, 1922. When he was 3, the predecessor of the current Dalai Lama recognized him as the reincarnated lama Takster Rinpoche.
This Dalai Lama gave him the name Thubten Jigme Norbu. Jigme means "fear not" and Norbu means "jewel."
In its obituary Monday, The Guardian, a British newspaper, said the coincidence of two brothers' being recognized as Buddhist saints was not as incredible as sometimes described. Their maternal uncle had been treasurer of Kumbum, the great monastery that Norbu would eventually lead.
According to an autobiography he wrote in 1961 with Heinrich Harrer, who earlier tutored the current Dalai Lama, Norbu had a boyhood full of pranks. He once roasted a potato in a sacramental fire.
At 8, he entered Kumbum and impressed teachers by memorizing 2,000 pages of scripture.
In exile, Norbu was the Dalai Lama's representative to Japan and North America. From 1961 to 1965, he was a curator of Tibetan artifacts at the American Museum of Natural History in New York. He then started one of the nation's first Tibetan studies programs, at Indiana University in
Bloomington, where he also began what is now called the Tibetan-Mongolian Buddhist Cultural Center. He led long marches for Tibetan independence.
In addition to his brother, Norbu is survived by his wife, Kunyang; his sons Lhundrup, Kunga and Jigme, all of Bloomington; and three grandsons.
Tibetans expect Norbu's soul to return. He never called the Dalai Lama brother, he said in a 1999 interview.
"To me he is 'His Holiness,"' he said. "He is family, yes, but he is the Tibetan leader first."
On Wikipedia: http://en.wikipedia.org/wiki/Thupten_Jigme_Norbu