Burmese monk, exiled after making stand, adjusts to American life
By Matt O'Brien, Oakland Tribune, Sept 17, 2008
OAKLAND, CA (USA) -- A year ago, Burmese monk U Kovida helped spark the nonviolent Saffron Revolution that brought international attention to human rights abuses in Myanmar.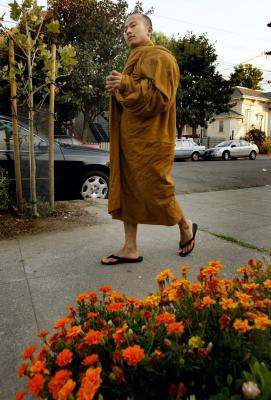 << Burmese monk Kovida U, 24, strolls along 7th Avenue in Oakland, Calif., on Tuesday Sept., 9, 2008. Recently, Kovida was robbed with a gun to his head on his way home from English class in Jack London Square. Also, Kovida helped lead the nonviolent Saffron Revolution that brought international attention to the human rights problem in Burma last year. (Ray Chavez/The Oakland Tribune)
It also made him a target.
With his face plastered on wanted posters across the city of Yangon, Kovida hid silently in a bamboo house for weeks before trading his Buddhist robe for a shirt and pants, bleaching his hair, donning a crucifix and sneaking out of town.
"My picture was everywhere," Kovida said. "I realized, if I'm arrested by the government, I have no chance for life. So I decided, myself, to leave my country."
The disguise helped Kovida escape to Thailand. Later, like many Burmese refugees before him, he ended up in Oakland.
Here since March, the 24-year-old has faced a different set of challenges. He navigated the complicated social dynamics of Craigslist to find a quiet place to live. He was robbed with a gun to his head on his way home from English class at Jack London Square. And he has regularly traveled around the East Bay on his bicycle and worked at a thrift store to pay the rent — two unorthodox activities that have caused some consternation among the local Burmese community. Clerics in Myanmar, formerly known as Burma, depend on community alms for their survival. And they don't ride bikes.
"This is the United States," Kovida said. "I cannot go around for alms in the city. I need work."
But as he gets accustomed to an American life, and an uncertain future, nothing has consumed the soft-spoken monk as much as the tumultuous political events that began for him a year ago today.
"September 18," his fliers had read. "Three o'clock."
In a copy shop in Yangon, the former capital that Kovida and many opponents of Myanmar's ruling junta still call Rangoon, the monk had persuaded store employees to let him make more than 100 copies of a dissident message, one that advertised an upcoming anti-government protest.
The flier, if authorities had seen it, would have gotten them all into trouble.
But monks, Kovida said, are afforded an enormous amount of trust and respect by the Burmese people.
Some days earlier, on Sept. 5, 2007, hundreds of monks had marched in the city of Pokkoku, protesting a spike in the price of cooking oil. The military regime, which has ruled the country for decades, lashed back at the monks with violence.
News of the attack against such revered, peaceful demonstrators quickly reached Yangon, where Kovida said some monastery leaders proposed sending a response to the country's leaders.
"They didn't apologize to the monks," Kovida said. "If they didn't apologize, we would make protest."
From about Sept. 7 through Sept. 12, Kovida said he and others began traveling across the city by bus with stacks of posters hidden inside their robes. They distributed them throughout the city's monasteries.
"September 18," the notices read. The monks would rise up on behalf of the Burmese people who were mired in poverty and unable to object to the sharp rise in commodity and fuel prices. While the military's history of silencing its critics with detention or violence left most Burmese afraid to speak out, the monks believed their status in society could give them special leverage and protection.
Finding a calling
Born in a small village in the western Arakan state, an autonomous kingdom before the Burmese conquered the region in the 18th century, Kovida grew up with little knowledge of his country's often tragic modern history. He was only 5 years old in 1988, when university students led a nationwide protest movement that disrupted military rule but did not end its iron grip.
Kovida, always a voracious reader, said he left home to live in an Arakan monastery at age 12 so he could study the Buddha's teachings. He remained there until he reached the limit of what he could learn in the provincial setting. In late 2003, he moved to Yangon.
In the big city, he followed the 227 rules of discipline that guide monastic life in Theravada Buddhism. But he also grew disturbed as he came to know through reading and word of mouth about the brutal realities of Burmese history.
"Before I knew about politics, I liked (the country). I liked everything," Kovida said.
Kovida never expected to be thrust into a leadership position. But on Sept. 18, he stood on the steps of a pagoda and called for volunteers from a crowd of waiting monks.
"Now, we have to do it for the people; we have to show to the world this is a peaceful demonstration. We need leaders," Kovida shouted to them, according to his best recollections of that day. "Please join me."
Because they were monks, the robed demonstrators who crowded the streets of the city and other parts of Myanmar over the coming days were given a degree of latitude.
"We chanted, 'Love and kindness, love and kindness to the people,'" Kovida said. "It was raining, raining, but we didn't care. We have a lot of energy. Every day, we keep protesting."
The protests continued for about a week before police and soldiers began cracking down. Video footage, now on the Internet, shows Kovida raising up his hand as authorities try to detain a man in lay clothes.
"I told them, 'Don't touch the student. We are a peaceful demonstration,'" he said. As they tried to stifle the rallies, soldiers collected photographs of those they considered instigators and began to pursue them. Monks were arrested, injured and killed. The government charged Kovida and other monks with hiding explosives in their monasteries, untrue accusations he says were meant to smear the peaceful campaign.
Taking to hiding
In late September, as curfews and arrests effectively shut down the protests, Kovida found refuge in a tiny bamboo house outside Yangon. Friends would bring him food a few nights a week. He remained silent for most of two weeks for fear of getting caught.
He also received word that authorities raided the homes of his adoptive mother in Yangon and of family members back in the Arakan state, with whom he had little contact. That, he said, was a sign that he had to flee. He was putting them in danger.
Disguised as a Christian and with fake identification, he escaped into Thailand and the Mae Sot refugee camp. That's where he met Dawn Calabia, an American and a senior adviser at Refugees International.
"He's a very remarkable young man," Calabia said. "His story, once he came in the room, the board asked some questions about why he chose to get involved. They were very taken with him."
It wasn't just the personal courage, Calabia said, but also his broader perspective.
"He was concerned about what was going to happen to Buddhism," Calabia said. "You sort of remember somebody like that."
Because of the dangers Kovida faced in Thailand, American officials fast-tracked his refugee application, and by April, the monk and two others were testifying in front of the U.S. Congress.
A month later, Myanmar was devastated by a cyclone that killed tens of thousands of people. The devastation saddened Kovida, who was trying to adjust to his new life in the East Bay.
In his new apartment in Oakland's San Antonio district, which he shares with roommates found on Craigslist, Kovida still keeps his crucifix necklace atop his bookshelf as a memory of his flight. Beneath it is "Freedom From Fear" by Burmese democracy leader Aung San Suu Kyi, but also a "Roadside History of Wyoming" and biographies of Gandhi, Churchill, Truman, MacArthur and Lincoln.
"He's fascinated by Abraham Lincoln," Calabia said. "He said he had read a number of books about Lincoln when he was in Burma as a student. He was taken by Lincoln's courage and leadership."
On Tuesday, he gets to compare notes between the first Republican president and the latest. As the United Nations General Assembly meets in New York City, Kovida and a few dozen other activists from around the world will have lunch with the current American president, George W. Bush, to talk about human rights.