A model model
by Hai Mien, Thanh Nien News, September 18, 2008
Ho Chi Minh City, Vietnam -- Up and coming model Truong Thi May is known for her Khmer background, her shiny, cascading hair and her towering 1.72-meter figure. But most don't know that she's also a dedicated student of Buddhism.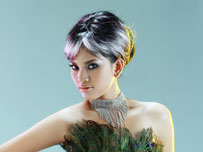 << Ho Chi Minh City's lone Khmer model is also a devout Buddhist.
May's face and dark complexion have become increasingly recognizable on the covers of magazines and catwalks since she took the first runner-up spot at the The Gioi Phu Nu (World of Women) magazine's 2006 Miss Photogenic contest and the 2007 Miss Ethnic Vietnam pageant.
Her elegant runway walk, unique style and tan skin have made her a standout newcomer on the local fashion scene.
Born in Phnom Penh, Cambodia in 1988 to Khmer-Vietnamese parents, May grew up in the Mekong Delta province of An Giang, where much of Vietnam's Khmer population lives.
She had a difficult childhood as her father died when she was only nine. As the eldest of five siblings, supporting the family was her responsibility.
She was able to cope with her family's hardships through the help of her mother and a Buddhist monk who became a mentor and father figure.
It was her master who encouraged her to enter beauty contests. He said she could make the Khmer community in Vietnam proud.
Khmer beauty queen and model Truong Thi May is a Buddhist more devoted to her family than her career.
"My modeling career has allowed me to fully support my family," May says, adding that she hopes to become a singer and actress some day.
Though she was offered a lead role in director Phuong Dien's much anticipated film Am Tinh (Negative), May's mother says the young model turned it down. She says May's Buddhist belief did not mesh with the film, which depicts in detail the rise and fall of model Lam Uyen Nhi, who went from being Miss Vietnam to a life of drugs, prostitution and AIDS.
Dharma kid
Perhaps May's most distinct quality is her determination to avoid the decadence of the entertainment world.
Her stage name, Margaritte Truong, was given to her by her Buddhist master. The name represents her teacher's wish that she remain as pure and innocent as a white daisy.
The 20-year-old has been practicing austere Buddhism and following a strict vegetarian diet since she was 13.
She begins her day getting up at 4 every morning, performing 108 kowtows and reading prayers.
Her family has been devoutly Buddhist for several generations and all members are vegetarians.
Her younger sister, brother and cousins are Buddhist monks and nuns.
"If destiny decides it so, I'll also be a nun in the future," May says, adding that she always feels at home in a pagoda.
May says her best friend is a nun and they often discuss Buddhist philosophy. "I'm most happy on weekends when my mom and I visit my master, sister and brother in Dong Nai Province. We attend sermons, do charity work, or go on pilgrimages (giving and collecting alms for others) with the clergy," she says.
"Buddhism teaches me how to be a good person and a good child in the family. It also teaches me about life and humanity," she says.
"It has also showed me how short and fleeting life is, so I make the most of my time and try to do good deeds," she adds.
The religion has also taught her tolerance and forgiveness. After being the first runner-up at the 2007 Miss Ethnic Vietnam held in the highland town of Da Lat last December, May was accused of misrepresenting her ethnicity.
She later proved that she is of Khmer origin.
"I'm a Khmer in appearance and at heart and I'm proud of that," she says.
"My family are Buddhists, so we try to avoid disputes or mentioning unpleasant past things," May says when asked why she did not demand an apology from the man who accused her.
"I was not worried that it would stain my name, because according to Buddhist teachings, nothing will get in our way if we do nothing wrong."