Khmer buddhist supermodel speaks out
VNS, Oct 19, 2008
Ho Chi Minh City, Vietnam -- Truong Thi May was runner-up in the Miss Viet Ethnic 2007 pageant. Although a rare beauty, she wanted to join a pagoda and become a buddhist nun at the age of 13, but the responsibility of being an elder sister to her four siblings stopped her. May speaks to Du Van Nga about this and other aspects of her unique life.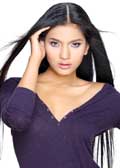 Inner Sanctum: After winning runner-up in Miss Viet Ethnic 2007, people thought that you would probably become a professional model or an actress, but others say you want to become a buddhist nun and live in a temple, what's the story?
I do hope to become a nun one day, but first I have to help raise my brothers and sisters.
I became a vegetarian, like a hermit, when I was 13 years old, following my family traditions. My family has a long-standing Buddhist tradition, starting with my great grandparents five generations back; our family is familiar with vegetarianism and over time the whole family started eating vegetarian.
My younger brother has been leading a religious life for 14 years and my next-younger sister followed in his foot-steps and also became a buddhist priestess.
My family support me in becoming a buddhist and accumulating blessings. I do not know my fate in the previous incarnation exactly, however in this incarnation, I hope to become a buddhist priestess like my two younger siblings. I think that I can live a tranquil life and at least learn from the prayer-books to be useful to humankind and relieve their sorrows.
Although I am only 20 years old, I have gone on a pilgrimage through tens of countries all over the world and plan to go to India, Myanmar, Thailand, Cambodia and Hong Kong together with my friend, a buddhist nun, in the near future.
Inner Sanctum: Why did you say that circumstance kept you from becoming a nun? Can you explain it more clearly?
No one prevented me from entering the Buddhist temple, it is simply because I have a responsibility to my family that I haven't become a nun.
My father departed this world when I was 9 years old and my youngest sister was a one-year baby. My mother was busy working in the market, trying to make enough money to raise our family of six, while I had to stay home and look after them. When I had grown up a bit, I also helped mum working in the market.
Inner Sanctum: Why did you participate in a beauty competition and work as a model afterwards?
My younger sisters and brothers and I were somewhat disadvantaged compared with other children our age as our father passed away early, so when my brother and sister joined the temple, the high priestess there helped our family. We have always asked her for advice and help when we face difficulty, and we prayed for good fortune, of course, before the Miss Viet Ethnic competition.
She encouraged and supported my participation in the contest, I hope that this title can bring honor to my people, and will help me be useful to society. I feel proud of this when I am modeling.
Working as a model helps me earn a better income to help support my family, especially as my mother is getting too old to work.
I can take care of my sister's and brother's school fees as well as take classes myself. I study information technology, English and business administration.
Inner Sanctum: How did you prepare for Miss Viet Ethnic, especially as this was the first time you participated in a beauty pageant?
This was the first time I took part in a competition like Miss Viet Ethnic. I felt a little anxious at first as it all seemed so strange, but luckily for me, my whole family and my best friend, Buddhist nun Lien Vinh, supported me every step of the way.
My mother and her brother stayed with me while I was competing, the ethnic costume I wore, a symbol of my Khmer ethnicity, was made by them and they embroidered it for three days and nights. It is a priceless costume imbrued with the blood of their fingers.
My mother said she wanted to make the costume, so a part of her could be with me during the pageant to encourage me; she didn't want me to rent a costume.
In my mind, the costume was the strongest motivatation for me to do my best, especially in the peahen dance, the talent section, and the lissom folk dance, which my mother also taught me.
My mother holds more than one position in my life, she is my driver, bodyguard, tailor, photographer, cameraman, adviser and more. She and I are like fish and water.
Inner Sanctum: After your coronation you refused several film roles, why didn't you try your hand at movies?
Fortune smiled upon me when I was offered roles in six serial dramas, but I had to refuse as I was still studying and didn't have time for both.
Furthermore, I am a Buddhist so I have to choose roles carefully.
I think I am still young, so if a suitable role is offered in the future, I may yet become an actress.
Inner Sanctum: "May", in my mind, is quite an impressive name, so what is the real meaning in the Khmer language?
"May" or Chanh Recsmay in the Khmer language means sun and lucky. It is also my official ethnic minority name. My mother gave me this name to wish me luck; she also taught me to hope and pray for luck and happiness for everyone, not only me and my family. However, I have another name, Magarette Truong, a stage name given to me by a Buddhism priest, and I like this name too.
Inner Sanctum: What are your plans in the years to come?
I have always dreamt of becoming a businesswoman to serve the country where I was born. However, if I am fated to join a Buddhist temple, I will leave my home to become a nun. This would be the happiest and most peaceful option.