Lama talks about her faith
By Jeff Brumley, The Times-Union, Oct 26, 2008
Woman, 29, is Jacksonville's first Tibetan Buddhist lama
Jacksonville, FL (USA) -- When Tibetan Buddhist Michael Turnquist came to Jacksonville in 1984, there was just one Buddhist center in town. And that closed shortly after his arrival.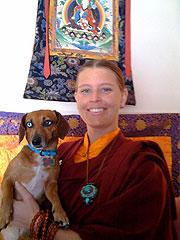 << Jeff Brumley/ The Times-Union
Lama Tsultrim Khandro is a spiritual leader of Karma Thegsum Choling Jacksonville, a Tibetan Buddhist center in Riverside. Khandro, seen here with her dog, Ohpea, is the city's first Tibetan Buddhist lama. She says one needn't be Buddhist, or even religious, to meditate.
A lot has changed since then. Jacksonville is now home to at least a half-dozen Buddhist communities, including Zen and ethnic Vietnamese and Cambodian centers. The Tibetan Buddhist center Turnquist opened in 1986 reached a milestone this year with the arrival of its -and the city's - first resident Buddhist spiritual leader.
Lama Tsultrim Khandro, 29, who also is Turnquist's wife, returned six months ago after training for 31/2 years in a cloistered retreat. She led Karma Thegsum Choling Jacksonville's "Meditation for Peace" event during the weekend at Riverside Park.
The Times-Union spoke with her twice because the tape from the first interview was inaudible. Here's what she had to say the second time around.
Is it just me, or have we been here before?
Reincarnation, brother. We have been here before.
What does "lama" mean?
It means teacher.
What does it say about Jacksonville that it now has its first Tibetan Buddhist lama?
It speaks to the maturity of the [Tibetan Buddhist] community here. The community has grown to where it needs it. We've had visiting lamas every year ... but it's good to have someone here full time for students.
So as a lama, you're essentially a pastor?
I do all the pastoral stuff, I do all the ritual. I meet with students to talk about the concerns that they have ... I'm very much like a rabbi, but without the circumcision. [Laughs]
Is it your goal to grow the center?
Ours is not a proselytizing faith. We are not looking for converts.
You were raised Catholic?
Yes, I grew up Catholic. ... I was the first altar girl in the Diocese of St. Petersburg. I didn't know what I was doing but I was happy to be doing it.
What attracted you to Buddhism?
It made sense to me. It was my karma to become a Buddhist. ... I looked into other spiritual traditions. None of them spoke to my heart like Buddhism did.
What do you think about all the references to Buddhism and reincarnation that we see in popular culture these days?
It's a good thing. It's a bad thing. ... There are catch phrases I hear daily. I was at a concert and a girl was saying, "It's my karma that I got good tickets," and things like that. ... You can throw out phrases, but what do they mean? It's a good thing that it's out there, but even I have been guilty of purchasing the garden Buddhas in the big box stores.
Why is that a guilt thing?
Well, these are items that we deeply honor and respect. These are images of the Buddha. This is not just a garden decoration. So for me to buy the image of the Buddha is completely different than ... perhaps somebody buying it to make their garden look pretty. It is an item of peace and tranquility, and they recognize that, so they purchase it. I think this is a great thing, but ... we believe in treating them with utmost honor and respect.
Are those statues and images worshiped?
No. ... Most religions have symbols of their faith. You can simply take them as symbols of our faith, reminders of the Buddha who gave us the teachings of the Dharma, and as deeply sacred and touching images of our path.