Top 10 Buddhist Teachers Living in America
by Waylon Lewis, Huffington Post, December 6, 2008
New York, USA -- Wanna get you some meditation, some peace, some wisdom? Wanna do a weekend program where you learn how to calm and open your mind to...reality?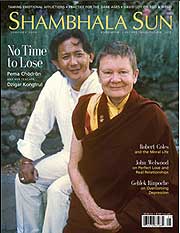 << Dzigar Kongtrul Rinpoche with Pema Chodron on the cover of mostly-Buddhist magazine The Shambhala Sun.
Buddhism--tested over 2,500 years in dozens of diverse cultures--is worth a go. This "non-theistic" (read: it's up to you) religion comes in dozens of styles--Zen, Theravada, Tibetan--but it's always, at its root, about learning to be a good, sane, peaceful, compassionate person. Still, finding the right teacher for you is an age-old task--made somewhat easier by online teaching schedules, hundreds of wonderful Buddhist books (why, only a generation ago there were only a few tomes to choose from).
Thanks to murderous Mao (he killed more than Hitler and Stalin) & his loyal Red comrades, Tibetan Buddhism came to the West following the 1959 "liberation." Given that 50 years have passed, the last generation of born-and-raised-and-trained in Tibet teachers is getting long in the tooth. So get thee to a nunnery or monastery--or an urban meditation center, or a luxurious rural retreat--and dip your toes in enlightenment.
The Buddhists won't mind if you're just window-to-the-soul shopping...a pioneer (along with Alan Watts and Suzuki Roshi) in transmitting Buddhism to the West, Chogyam Trungpa (author; founder of Naropa University) wanted his best-selling Shambhala book to be sold in every grocery in America, right by the tabloids. Though he warned against "spiritual materialism"--using religion to perfect the Self, and brace up the ego--he wanted the wisdom of Buddhism to be available, and made practical, to Rabbis, Reverends and Heathens alike.
So here's my Top 10 Buddhist Teachers You Can Study With list. I've disqualified charlatans (Genpo Roshi, who is well-loved in many circles, has recently been accused of such), promising youngsters who have yet to prove themself...and those who you can't really study with because they're too famous to actually study with (Dalai Lama, Thich Nhat Hanh), in private meditation retreat all the time (Khenpo Tsultrim Gyamtso Rinpoche, Dzongsar Khyentse Rinpoche), or rarely in the West (The Karmapa, Khandro Rinpoche).
If I've forgotten or overlooked anyone, I'll be happy to add them to the must-check-out list if I get a groundswell of vicious comments.
1. Sakyong Mipham Rinpoche ~ he's young but not too young, experienced, thoroughly Westernized (though exotically Tibetan, heritage-wise), a great teacher and frequently accessible at programs around the US, Europe, Canada, even South America. But because he's a rising star, you've got to make an effort if you want personal training.
2. Pema Chodron ~ though Pema is a best selling, accessible, wise, safe teacher, and Oprah loves her...I nearly disqualified her because she's no longer frequently accessible. But she's just too good to overlook. So check out her teaching schedule, and connect with her before she retires or goes into retreat.
3. Sharon Salzberg ~ like Pema, she's a best-selling author and accessible teacher. While less magnetizing than Pema, she's deeply experienced and warm-hearted. With her partners-in-crime Joseph Goldstein and Jack Kornfield, she teaches mostly out of the Insight Meditation Centre in Barre, Mass.
4. Ponlop Rinpoche ~ like Mipham Rinpoche and Dzigar Kongtrul Rinpoche (below), a young, well-trained teacher who belongs to the first generation of Tibetan Buddhist raised and trained in the West. He's got an avid, small-but-fast-growing community--perfect if you want personal attention and training.
5. Joan Halifax Roshi ~ a strikingly-lovely, wise and venerable American Zen teacher, she's based out of her Upaya Zen Center in New Mexico, and works with the yoga community extensively. A superstar.
6. Dr. Reggie Ray ~ while he's been caught in that "I'm American yet folks treat me like a guru vortex" that's chewed up and spit out Osel Tendzin and Richard Baker Roshi before him, Reggie is like Pema a magnetic, accessible teacher. Unlike Pema, he's got a small community with whom he works closely. Perfect if you want personal attention and training.
7. Columbia professor, Free Tibet activist and co-founder of The Tibet House, righthand man to the Dalai Lama, one of TIME's most Influential People and father of Uma, Robert Thurman is charismatic, wild and wise--perfect for those who want to connect with the Dalai Lama's teachings.
8. Norman Fischer ~ I don't know him at all, being mostly a Tibetan Buddhist trained boy myself, but he's got a stellar reputation for integrity.
9. Dr. Judith Simmer-Brown, Dale Asrael, Frank Berliner ~ alright, I'm cheating--combining three in one--but if you're college-age, you can find 'em all (and other gems, too) at little Naropa University. Dr. Simmer-Brown is an expert in feminism, or the feminine principle in Buddhism, Ms. Asrael is wise and kind, Mr. Berliner is deeply serious, knowledgeable, caring, and impossibly good looking--the Marlboro man of Buddhism.
10. Dzigar Kongtrul Rinpoche ~ like Ponlop Rinpoche, if you're looking for a small community, personal attention and deep study, he's perfect for you. If however, like me and most, you're looking to simply inject a little mindfulness and awake-ness and peace and sanity into your daily life, stick with the superstars listed above.
With thanks to Corey Kohn, Heather Mueller, Molly de Shong and other friends who worked to save this post from my utter daftness:
11. Those who didn't make the list not because they're not wonderful but because, well, I only squeeze so many teachers into that silly construct known as "The Top Ten": Mingyur Rinpoche, Tsoknyi Rinpoche (a young star), Tsultrim Allione (one of the most-respected female teachers), Thrangu Rinpoche (one of the last Tibetan-born still-active teachers), Narayan Liebenson Grady, Joan Sutherland, John Tarrant, Daido Loori (though his health has sidelined him, of late), Traleg Rinpoche, Judy Lief (former President of Naropa) and Sasaki Joshu Roshi (a living Zen legend).
The basic point: meditation is good for you. As Sakyong Mipham Rinpoche says, we here in the West get that we have to train our bodies if we want 'em to be healthy. But what about our minds? We ignore them. So get thee to an eco meditation cushion, if only for a few minutes each morning before the day's madness ensues...and if you need a jump-start of inspiration or a little training, check out one of the above.