Money can't buy happiness
By SRIWIPA SIRIPUNYAWIT, The Bangkok Post, Feb 1, 2009
This is what Danai Chanchaochai believes and has changed his life to make happiness his number one goal
Bangkok, Thailand -- In the hall there is pin-drop silence. This scenario is almost impossible to find in the heart of Bangkok, at 5:30pm on a weekday. But, people still dressed in office attire, start to gather here to listen to the words of Phra Acharn Mitsuo Gavesako echoing from a stereo.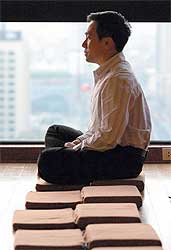 << Danai Chanchaochai, 42, chief executive officer of DC Consultants.
There is a strange calm and peace that fills Bodhgaya Hall, which welcomes people from all walks of life Tuesday and Wednesday. It usually provides 170 seats for anyone wishing to take "off" after work to seek peace in their hearts through meditation and Buddhist teachings.
"However, there was time when as many 800 people joined the session and our neighbouring office had to keep their door open so the people got more space to sit and meditate," says Danai Chanchaochai, 42, chief executive officer of DC Consultants, a strict follower of Buddhist teachings.
This space on the 22nd floor of Amarin Tower, Chidlom, must be complete misuse of "office space", as there are no monetary gain from it.
Danai thinks otherwise. Besides the spacious meditation hall, his office space is shared by a cosy bookshop that houses mostly books from his publishing house, DMG Books.
While half of all the published books are for sale, the other half are for free distribution. And the income from selling books will also be donated.
The first thing all his office staff do every morning isn't clocking in their ID cards, but request for precepts.
Besides spending time coaching his staff at work, Danai spends time spreading the word of Buddha among students and office workers nationwide. Each year, he preaches at over 1,000 organisations.
This may sound odd to many. Yet, to Danai, this is what he hopes for, a life that he is able to design for himself.
Danai realised that money was so important, a long time ago. Yet, today he prefers to believe it's just a "life facilitator" that assists ones to live comfortably. And that should be all.
"Money shouldn't be more important than other things in life ... honestly, I've hardly seen any billionaires finding true happiness in their lives."
Certainly he doesn't want it to sound like a cliche, but the day he realised that being happy held topmost priority, his life changed.
The day that changed his life came when he was a freshman at Assumption University. Being born rich, it was easy for him to have everything to keep up his luxurious lifestyle in university, including a beautiful house and a fancy car. However, things changed when his family's business went bankrupt leaving him with no income.
Everything he owned was either sold or pawned.
"It was quite an experience going to a pawnshop. One day, I remember leaving even a pen with a pawnbroker in exchange for some money," he reminisces, laughing.
Things were tough yet life went on, including the payment for tuition fees. Young Danai decided to pay a visit to his old friend - a billionaire who had everything he hadn't at the time.
"I still remember that day very clearly. When I entered his room, I found him sitting on his chair, looking so sad and worrying so much about not getting his money back from a friend who had owed him.
"This suddenly hit me hard. This guy had billions in his pocket yet was so unhappy. So money can't really make one happy. Perhaps, the more you have, the less happy you are likely to be," he explains.
His life's goal changed then - from making a lot of money to seeking true happiness in life. He decided to fund his own education by switching from a day to an evening programme and started working full-time. Eventually, he made his own way.
People are too obsessed with money, he cites. "We create our own conditions in life - which is to have a lot of money. And when we become too obsessive with something, we tend to be unhappy as we'll want it more and more and become unhappy if we lose it - never ending need. So, money ends up using us, not we using it."
His whole opinion doesn't go against people making money or suggest anyone to leave their palaces and live on a street or take a refuge and become monks. Yet, he says ones just shouldn't hold on to material things too tightly. He himself has spent, saved and invested. A house, a condo, land, a life insurance and some mutual funds, he reveals. And the rest of money usually goes to donations.
He believes in diversification. Clinging on to just one asset may be too risky. Wise risk management should be implemented.
"I don't put my money in stock market, it's too risky. And I don't believe in 'high risk, high return' - that only means greed."
Currently many people are suffering from a loss of their wealth caused by economic depression and crashes of stock markets worldwide. "That's because people put their lives on it. However, things change all the times and people aren't likely to take changes well. So, they're unhappy."
Rather than holding on to money so tightly and focusing on boosting ones' wealth, Danai suggests people to build 'richness' from within. The best investment is investing in ones' minds.
"What ones should be managing and guarding well isn't their wealth but their hearts and minds... That's the only way to true happiness."