Forged Amidst the Violent '60s, Willis' Buddhist Commitment is Recognized
By Barbara Fenig, The Wesleyan Argus, Feb 10, 2009
Middletown, CT (USA) -- Professor of Religion and East Asian Studies Jan Willis is at the forefront of history and has accomplished what most can only dream of achieving.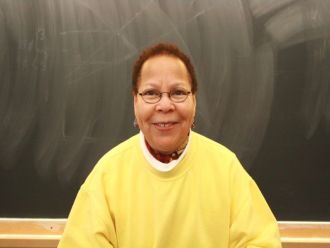 << Laura Lupton Willis considered becoming a Black Panther before embracing Buddhism.
She marched with Martin Luther King Jr., held sit-in protests during her undergraduate years at Cornell, lived in the foothills of the Himalayan Mountains, taught at premier academic institutions and has written some of the leading scholarship in her field.
This March, Willis' peers will celebrate her newest achievement, just one of many, as 2009's "Outstanding Woman in Buddhism" in Bangkok, Thailand. She was selected for this award by the Outstanding Women in Buddhism Committee's panel of distinguished Buddhist scholars and practitioners.
Willis wanted to be a teacher for as long as she can remember. She was raised in Docena, Alabama, a town she deemed the most segregated city in America. Remnants of the segregated south were still present during Willis' childhood. Drinking fountains labeled "White" and "Colored" permeated the town. In 10th grade, she marched alongside Martin Luther King Jr. during the Birmingham campaign—she was subsequently hosed by police and remembers being afraid of their vicious dogs.
"It was wonderful, triumphant days," Willis said. "We felt like we might change things. This was the spring of 1963, that summer was the march on Washington D.C."
Willis received scholarship offers to Cornell and Vassar. News spread about her achievements, and, in response, a burning cross was placed on her lawn. Willis, her mother and her older sister were home at the time the hate crime occurred. Her father, a steelworker and deacon at the local Baptist church, was away working a graveyard shift.
It was her involvement in the Civil Rights Campaign during high school that inspired Willis to take greater action in college. Willis was one of eight African American students during her first year at Cornell, and the only female of this group. By her senior year, 260 African American students were enrolled in the university. She joined Students for a Democratic Society (SDS) and founded the Black Students Association (BSA).
Willis originally intended to major in physics, but her academic focus shifted, and she graduated with a degree in Philosophy. The Vietnam War sparked Willis' interest in Buddhism while she was an undergraduate. During her junior year abroad, Willis traveled to Banaras, India and studied at the Banaras Hindu University, where seven monks instructed her on Buddhist philosophy.
"There was something so serene about the Tibetan Buddhists; amidst the crowded crush in India, there was this calm oasis," Willis said. "My quest had been, since leaving Docena, to answer the questions of, 'How do you deal with prejudice? How do you forgive people who harm you?' That was my interest in the Vietnamese; that is what led me to Buddhism."
Willis returned to a climactic campus fraught with racial tension as a result of the Guns-on-Campus incidents at Cornell. The racial tension inspired the Black Student Association to acquire handguns.
"I came back, opened the door at the Black Student House, and there were guns all over the floor," she said. "People all around were arming themselves to get us."
After a cross was burned on the front lawn of a residence of twelve African American students, on Parents' Weekend in April 1969, members of the BSA seized control of Cornell's student union for 35 hours during the Guns-On-Campus campaign.
The episode resulted in the creation of the Africana Studies Program and African Studies and Research Center at the university, which was stipulated by the BSA to end the building's occupation.
Upon graduating from Cornell in 1969, Willis journeyed from New York to California to make the most important decision of her life: whether to join the Black Panther Party or return to the Tibetan Buddhist monastery in Nepal. Minutes from joining the Black Panther Party, she chose not to walk into the California office headquarters.
Willis chose, instead, to follow the path to Buddhism; she spent one year in Nepal before getting her doctorate in India and Buddhist Studies from Columbia University. While at Columbia, Willis learned Sanskrit and Pali, the language spoken in India during the time of the Buddha.
Credited as the first African American scholar-practitioner of Tibetan Buddhism, Willis is celebrated for her contributions to the study of Buddhist women. She has written about the plight of Buddhist nuns and is an unremitting advocate for Tibetan Buddhist nuns' rights. In 1995, Willis co-founded a nunnery in Ladakh, India, a region hailed as a refuge for Tibetan Buddhists.
The nunnery houses 26 Buddhist nuns from ages 42 to 83—in Ladakh, nuns are commonly denied full ordination by the monastic authorities. Willis' Thiksey nunnery in Ladakh provides solace for the practicing nuns. This year, the nunnery will expand the convent to house 50 nuns.
In addition to her latest achievement as 2009's "Outstanding Woman in Buddhism", Willis has also been honored in numerous publications.
She appeared in the "Spirituality in America" issue of Newsweek, and Time magazine nominated her as one of six spiritual innovators of the new millennium. In addition, from 1992-2006, Willis served as Wesleyan's Walter A. Crowell University Professor of the Social Sciences. She has taught at Wesleyan for 30 years.
"I'm loving it," Willis said. "I love it because of the students. I've taught at a number of other places on short stance over the years and I'm always so happy to get back here."