British monk honoured by Thai King
Story and photo by NISSARA HORAYANGURA, Bangkok Post, Feb 16, 2005
Bangkok, Thailand -- When he first visited Thailand in December 1971, he went to the Grand Palace on the night of the King's birthday and stood outside taking pictures, hoping to catch a glimpse of the King.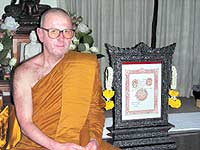 << British-born monk, the Venerable Ajahn Khemadhammo, was recently honoured with the ecclesiastical title of Chao Khun Bhavanavitayt for his dharma work. Recognised for teaching dharma in English prisons
Exactly 33 years later to the day, British-born monk the Venerable Ajahn Khemadhammo again found himself at the Grand Palace. This time he was inside to have a royal audience with His Majesty. In a royal ceremony, the King conferred on him the ecclesiastical title of Chao Khun Bhavanavitayt, the second foreign-born monk ever to receive such an honour.
It is an honour he adds to his other royal appointment, the Order of the British Empire, bestowed on him by Her Majesty Queen Elizabeth II last year.
The decorations recognise his 27 years of compassionate work offering Buddhist spiritual guidance to prisoners in the UK.
After being ordained in the forest monk tradition of northeastern Thailand and training under the late meditation master Luang Por Chah Subhatto for six years, he returned home to found Angulimala, the Buddhist Prison Chaplaincy Organisation. Named after one of Buddha's enlightened disciples who had previously been a murderer, the organisation has a team of some 50 volunteers who currently reach 140 prisons throughout England and Wales.
In his soft, measured voice, at once gentle but firm, Phra Ajahn Khemadhammo says with conviction, "Prison is not easy." While people may point, often with resentment, to the TVs, recreational activities and educational opportunities prisoners are given, he maintains that "It's a terrible thing to lose your freedom.
"These people can't go home. They can't go to see their children, mothers, husbands, wives." One prisoner, he remembers, kept a picture postcard of a cell door with no handle on the inside pinned to his wall _ a gripping image of the prison experience.
In English prisons, moreover, inmates are kept in small cells unlike the dormitory-style rooms in Thai prisons. "So you're locked up in a very small room with two or three other prisoners, for 23 hours a day, with just yourself and your unhappiness, your anger, everything."
It is an experience that in fact has many parallels with a monk's life. While monks have some freedoms, at the same time their lives are also quite restricted. "You spend your time facing yourself and your kilesa [greed, hatred and delusions]," says the monk.
But unlike monks, prisoners are not taught the skills to deal with the situation, or to put it to constructive use. "So for them, it's just horrible," he says, citing the high suicide rate among British prisoners.
Bringing dharmic teachings and instruction in Buddhist meditation to the prisoners is a way to help improve their coping skills.
It is not, however, aimed at "rehabilitating" them, he stressed. "I don't think anything like that. Somehow it's not right to. Because if you do, you have a desire for that person to be a certain way. And that is kilesa, actually. And it never works."
The way he teaches prisoners is thus no different from the approach he uses with anyone else and he sees no distinction between his work inside and outside the prisons.
He says his teaching method is heavily influenced by his own master, Ajahn Chah, who would astutely adapt his teaching style to suit each individual. "I watched how he would patiently listen for hours to people who came to the temple. Some of it was boring, trivial stuff. But whenever there was an opportunity to teach people the dharma from their own experiences _ whoosh, he was like a swordsman. Straight there."
Similarly, Ajahn Khemadhammo draws on the prisoners' real-life experiences to teach them dharma. If they complain about how they are being treated by the prison guards, he uses it as an opportunity to teach them about metta or loving kindness. "I try to get them to consider how others, how the prison guards feel. I try to point out how these men are doing a very hard job _ they could be stabbed or killed any day. Even if they aren't, prison guards actually don't have a very long life expectancy, because they're so tense, having to be on guard all the time." He then suggests the prisoners try being nice to the guards _ which might well change their behaviour.
On the flip side, Ajahn Khemadhammo encourages people in society to empathise with prisoners. Right now, in England, he sees the attitude towards criminals is one of revenge. "What they call 'justice' is an expression of revenge. That just creates more conflict in society."
The key is to see prisoners as humans, not just as criminals. He says, "I see a very good side to them. They've been incredibly generous to me. They send me money. They bring me things. And they're very generous to each other."
Indeed, he says, we must realise that all our lives are mixtures of both good and bad karma. A person may do something really bad, but that may be the only seriously bad thing he does in his life. The rest of his life he may actually be doing quite good things. The goal is to draw out and promote the good karma, which is what he tries to help prisoners do.
One might think teaching prisoners must be especially challenging, but Phra Ajahn Khemadhammo chuckles, "I much prefer teaching prisoners. It's easier to teach prisoners about Buddhism, because they understand suffering," he says.
Perhaps partly due to cultural barriers, he found that when teaching normal English people, many didn't understand his talk of suffering and insisted they didn't suffer. "[But] in prison you have a very powerful experience of suffering. When we talk about the cause of suffering, it's much clearer."
Of course, in reality, people outside prison also suffer, and are actually "imprisoned" in many ways by their views. They are simply not as aware of it as prisoners.
The prisoners' acute suffering gives them a strong motivation to find a way out of it. The way Buddhism puts responsibility for doing so "right back where it belongs", on the prisoners themselves, also challenges them, strengthening their motivation to bring about change. To do so, Buddhism provides highly practical guidance. "It teaches you how you can change by doing this or that, by practising in this way. So suddenly, the huge gap between reality and aspiration _ there's a means of closing the gap," he explains.
Have Buddhist teachings proven effective in changing the prisoners? Ajahn Khemadhammo says he has seen that they do become less likely to return to prison once released. Admittedly, many do come back, because it is hard for those who have been in prison for a long time to integrate back into society. They often end up associating with criminal elements and getting drawn back into crime.
"Still, their volition is weakening. But it's like a train. It doesn't just stop. You have to apply the brakes a long way before you get to the station."
One case in point is a notorious criminal who had through the prison gates many times. But the last time he came in, he was in a really bad state and felt he really needed to do something to change his life, recalls Ajahn Khemadhammo. It was then he became interested in Buddhism.
"I gave him a book on Luang Por Chah. He read it three times, straight off. He can quote it to me, he knows it better than I do! He has changed out of all recognition," says Ajahn Khemadhammo, his face beaming at the memory.
In teaching Buddhism, however, he is careful not to be pushy. He teaches only those who express interest, being critical of religious programmes that try to force themselves on those of different faiths.
One new dimension to his work has been participation in an inter-faith Chaplaincy Council where all major faiths are represented. "It's important that we are able to listen to others even if we don't agree with their views. And it's so important now, not just in prisons but in the world at large."
While the world beyond the prison walls has taken notice of his work, Phra Ajahn Khemadhammo says the honours he received reflect a more open attitude towards the prisoners.
"I know the prisoners will be very, very thrilled by all this. Because somehow, it is something for them as well. They will be very pleased that there is some attention being given to a very dark and unpopular corner of society."