Miller puts his twist on Buddhism
By MARK LISHERON, The Associated Press, April 17, 2009
SPICEWOOD, Texas (USA) -- From where the teacher stands, at dusk on a ridge behind the ranch house, the dry, buckskin-colored bed of the Pedernales River cuts south, disappearing around one of the endless, scrubby, undulating hills.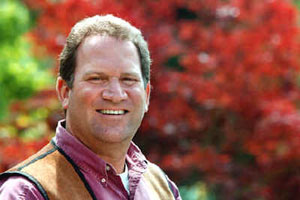 << Lama Surya Das aka Jeffrey Miller
People are walking paths between other buildings on the ranch, quietly, slowly, deliberately. The burnished Southwestern pastoral scene is disrupted by the bright claret splash of a robe over the left shoulder of the teacher.
This 35-plus-acre ranch a few miles outside of Spicewood is a Dzogchen Center, a retreat for Buddhist reflection, teaching and prayer. Beneath the robe, Lama Surya Das wears a crisply ironed, stylish shirt.
He is a New Yorker spreading the word of an Eastern religion in the West: the idea of a life's journey to enlightenment sold with a little Hollywood. He favors wraparound sunglasses. He often arrives at formal occasions in a business suit.
"The goal is to get my message out, and I'm doing it in a way that fits me," Surya Das said over tea during a one-week advanced retreat last month. "Nothing succeeds like success. But Buddhists don't proselytize. Only go when invited. Only teach when asked."
One can find Surya Das explaining this American version of Buddhism in short videos on YouTube, or matching wits with comedian Stephen Colbert and describing what he does on an old edition of comedian Bill Maher's program "Politically Incorrect." He gives his mother, who eventually forgave him for his drift away from Judaism, credit for dubbing him "The Deli Lama."
He sells books like a celebrity. "Awakening the Buddha Within" spent time on The New York Times best-seller list and has sold more than 400,000 copies. There are an additional dozen, all of them still in print.
There is nothing undignified in this showmanship, as long as it serves its purpose, Surya Das said.
"I am interested in reaching you," Surya Das said. "The Dalai Lama has been successful by being approachable."
In many ways, Surya Das, 58, remains Jeffrey Miller, the Jewish, three-sport high school letterman from Long Island. Miller enrolled at the University of Buffalo in the late 1960s and like many of his friends with college draft exemptions, took part in the demonstrations against the Vietnam War. He got tear-gassed in Washington. He survived the mud-slicked bliss of Woodstock.
The anger and frustration over the war culminated for Miller in the clash between students and the Ohio National Guard at Kent State University in 1970.
Allison Krause, the girlfriend of one of his best high school friends, was one of the four students shot and killed by guardsmen. Violence, he concluded, was not a path to peace. And trading a bachelor's degree in psychology for a job was not a way to contentment.
"Those were heavy times," he said. "I was looking for something different. I was always a questioner, following my heart and sniffing around with my nose for a way to find peace, to become peace. I headed east."
Many students took journeys of the kind described in Crosby, Stills & Nash's song "Marrakesh Express." Miller, trekking from Turkey to Afghanistan, to India and, finally Nepal, stayed for two years, becoming a student of the Buddhism practiced in Tibet.
Buddhism was born from the life-changing experiences of Siddhartha Gautama, the indulged son of a swashbuckling Indian king. Gautama, who historians say probably lived between 580 and 480 B.C., renounced the advantage of his social caste, traveling to comprehend the meaning of human suffering. In a revelation, Gautama became the first Buddha, laying down an elaborate set of ideas around the belief that human beings had, through reincarnation's cycle of death and birth, the capacity to break from their basest urges and achieve a complete enlightenment known as nirvana.
The idea of this search for wisdom and application to everyday life exerted a tremendous pull on Miller, who had never been fully satisfied with the explanations and exhortations of his Judaism. When Tibetan monks agreed to teach him, he said he found himself among men who lived their faith and made him understand that he could share what he learned, too.
"This was my true higher education, wisdom for life," he said. "I began to understand the interdependence of all of us. How can I be happy if there are so many who aren't?"
While he insists he has never completely left Judaism, Miller's parents were appalled when he returned from his Eastern travels in 1976.
Miller took the name Surya Das, or servant of light, and told his parents of his intention to return to Tibet. His advanced Tibetan Buddhist studies continued into the 1980s.
He first met the Dalai Lama late in 1972, eventually receiving the exiled Tibetan religious leader's blessing to teach as a lama himself. Over the past 25 years, Surya Das acted as a sometime guide, translator and confidant when the Dalai Lama has toured the United States.
He spent more than a decade leading retreats and teaching, mostly in Switzerland. Convinced he had important work in his own country, Surya Das decided in 1991 to relocate to Cambridge, Mass., to start his first Dzogchen Center. Dzogchen is one of several schools of Tibetan Buddhism.
When he was studying in Nepal in the early 1970s, the United States had only a few established Buddhist teaching centers. Today there are more than 2,200 cataloged by the Pluralism Project, a broad ongoing study of American religion at Harvard University.
In a world of about 375 million Buddhists, the Pluralism Project estimates 2.5 million to 3 million of them are American. A majority of them are immigrants, but a growing number are American converts.
Surya Das has been an important part of that growth, said Charles Prebish, a Utah State University professor and the author of a handful of seminal studies of Buddhism in America.
From an Eastern tradition that can be complicated and doctrinal, Surya Das offers a kind of pop culture simplicity to Buddhism without diluting the core message of enlightenment, Prebish said.
"As a teacher and lecturer he is in incredible demand around the U.S. He may not be at the top, but he's very near the top," Prebish said. "He's personable, clever and fun to listen to and talks in a language people understand."
Among his most useful and important contributions was his anticipation of what American Buddhism would become, Prebish said. In his book "Awakening the Buddha Within," Surya Das outlined a Buddhism that gives men and women equal standing, and that is egalitarian and nonsectarian, simplified and demystified. His catchphrase: America the Buddhaful.
Eric Yang Liu, a doctoral student at Baylor University who reported on Buddhism in Austin for the Pluralism Project, said traditionalists are critical of what they see as the westernizing influences of gender equality and of the democratizing of the leadership within the faith that Surya Das has vigorously promoted.
This tension between old and new is not unique to Buddhism and does not undercut Surya Das' international standing and message, said Richard Seager, author of "Buddhism in America" and a professor of religious studies at Hamilton College in Clinton, N.Y.
"My sense is that the need to reinterpret for and in the West is seen increasingly to be the wise option," Seager said. Judging Surya Das by Eastern standards is to miss the value of what he does, said Mitchell Kapor, an old friend, former transcendental meditation teacher and entrepreneur who sold his Lotus Development Corp. to IBM in 1995 for $3.5 billion.
"In the spiritual buffet that is modern America, people feel very free to pick and choose," Kapor said. "Surya is an exemplar of the American tradition of adaptability."
The Dzogchen Center on the Pedernales — Surya Das' second — is proof of this adaptability. A decade ago, friends in California introduced Surya Das to people in Austin who were eager for him to teach here. For a couple of years the Dzogchen Foundation conducted retreats at a Montessori school Surya Das rented during summers in Austin.
A woman from Houston who attended one of those retreats with her husband and whose anonymity Surya Das wants to protect donated the ranch on Pedernales Canyon Trail in 2003. In the Dzogchen tradition, the center serves as a sanctuary for the lama.
In addition to the ranch house where Surya Das stays while teaching here, and the rough-hewn, spacious barn that serves as a teaching center, the Dzogchen Foundation built modest one-story cabins for as many as two dozen people to stay in.
On this day in mid-February, a small group of people from all over the world, all of whom have had extensive Buddhist teaching, wake for tea at 5:30 a.m., followed by the morning puja, or worship with offerings of respect and honor. There are individual and group instruction, mantra practice, guided meditation and two teaching sessions led by Surya Das. An evening puja at 9 p.m. concludes the day.
After a short time at home in Concord, Mass., Surya Das will host similar monthly retreats in California, Oregon and New York.
This spot on the Pedernales, however, has its special place, a timeless treasure fitted for a new purpose, not unlike the Long Island boy who went east.
"It is in how we adapt," Surya Das said, "that we are able to keep alive the essence of what we teach."