Words of Wisdom
By Johnny Diaz, The Boston Globe, May 17, 2009
A small Somerville publisher helps the Dalai Lama share his teachings
SOMERVILLE, MA (USA) -- Walk inside the offices of Wisdom Publications in Davis Square and the Dalai Lama's smiling face greets you in every room. The Tibetan Buddhist leader's image adorns book covers, photographs, and posters inside this nonprofit, which is literally a publishing house: The offices are in a two-story 1920 mansard-roof Victorian house.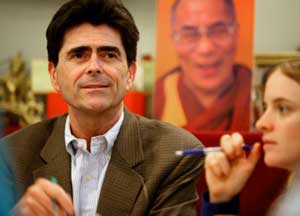 << Tim McNeill was asked to lead Wisdom Publications in 1988. He accepted the job as a volunteer for the first five years. Tim McNeill was asked to lead Wisdom Publications in 1988. He accepted the job as a volunteer for the first five years. (Globe Staff Photo / Wendy Maeda)
Welcome to the Dalai Lama's primary publisher in Boston and one of the largest English-language Buddhist-dedicated literary companies in the world, selling 200,000 books a year from a catalog of 300 titles in 34 languages. The Dalai Lama's books are regular top 10 best-sellers in the company's collection: In all, Wisdom has published 14 books with the Dalai Lama, who is believed to be a manifestation of the Buddha of compassion and a reincarnation of 13 previous Dalai Lamas.
"He is our biggest celebrity author," said Tim McNeill, Wisdom's publisher and chief executive who this month released the Dalai Lama's newest book, "The Middle Way; Faith Grounded in Reason," which was hand-delivered to the spiritual leader during his recent speaking engagement at Gillette Stadium in Foxborough.
Although McNeill knows the Dalai Lama and even had him as a houseguest years ago in Brookline, the two maintain a long-distance but collegial professional relationship. McNeill speaks regularly with the Dalai Lama's principal English translator, Thupten Jinpa, on literary projects.
"You don't hang out with the Dalai Lama and have beers," joked McNeill, 58. "He's arguably the head of state. Is he friendly? Does he recognize me? Did he say a prayer for me when my mother was dying (of cancer)? Yes. I consider him a teacher of mine."
McNeill first crossed paths with the Dalai Lama in 1972 in the city of Dharamsala, India. In his early 20s, McNeill was traveling through Asia and Ireland when a fellow traveler suggested he visit India's community of Tibetan monks. Inspired by them, McNeill took a course in meditation and introduction to Buddhism, a family of beliefs that help people develop wisdom and compassion.
"I found Buddhism to be fascinating as a philosophy," recalled McNeill, a New York-reared Catholic. "It's more fulfilling philosophically, spiritually, intellectually. It was very empirical, and it appealed to my scientific aspect of mind."
McNeill then volunteered in the Peace Corps in Afghanistan, pursued a master's degree in public policy at Harvard University's Kennedy School, and then took a job working for Michael Dukakis's presidential campaign. When the campaign failed, a Tibetan monk recruited McNeill in 1988 to lead Wisdom Publications, which was then a London-based struggling publisher that printed classic Tibetan books including two by the Dalai Lama.
McNeill accepted the job as a volunteer for the first five years. He stabilized the finances of the company by managing costs and expanding the company's breadth of titles. He said he had faith in the company.
"It was an opportunity to do something useful and meaningful," said McNeill, who in 1989 moved the company to office space in the Back Bay where he further expanded Wisdom's catalog of Buddhist literature.
In 1998, the company moved into its own building in Somerville and continued publishing books with Buddhist ties. Although none of Wisdom's books have climbed The New York Times best-sellers list, several texts have been reprinted. The books range from scholarly texts such as the "Library of Tibetan Classics" to titles for children such as "Moody Cow Meditates." Wisdom's best-selling book: 2002's "Mindfulness in Plain English," a nuts-and-bolts guide on how to use meditation in daily life, is now in its 12th printing with 150,000 copies sold worldwide.
"As our reputation grew, people started coming to us," said McNeill, who has dozens of books in his office, some of which he hasn't read. Among the company's biggest supporters: actor Richard Gere, who wrote a forward for one of the Dalai Lama's books and is one of the company's benefactors.
Unlike most publishing houses, Wisdom is classified as a nonprofit charitable organization. As stated in the company's articles of association, Wisdom can only release literary works that will advance public awareness of Buddhist religion and philosophy.
Last year, Wisdom had a profit of $85,000, on revenue of $2 million, down from profit of $298,500, on revenue of $2.26 million in 2007. McNeill believes the economy may have hurt sales.
McNeill, whose salary is $96,000 a year, said he reinvests Wisdom's profits to support titles that may not sell as well as the Dalai Lama's books, but that are just as important, including "Classics of Tibetan Buddhism." The company keeps all its titles on a backlist.
Some scholars and publishers say Wisdom fills an important niche. Jeff Cox, president of Snow Lion Publications in Ithaca, N.Y., said Wisdom "has made a remarkable contribution to Buddhist literature and helped Americans discover Buddhism in a way that is pertinent to their lives." Snow Lion is another Buddhist publisher but it solely focuses on Tibetan Buddhism, while Wisdom publishes books about various Buddhist traditions.
"We are doing our part to preserve and disseminate Tibetan tradition," Cox said.
Leonard van der Kuijp, professor of Tibetan and Himalayan studies at Harvard University, agrees. "They publish really important work," he said. "They have a more scholarly series and they also have a series that is more directed to the public at large."