The Karmapa breaks his silence
by Anand Sankar, Business Standard, May 23, 2009
Ogyen Trinley Dorje hopes to get a university education, but will the government allow it?
New Delhi, India -- In the Dalai Lama, both Tibet and Buddhism have their poster boy, though a triad governs the spiritual leadership of Tibetan Buddhism with the Gyalwang Karmapa and the Panchen Lama as important pivots.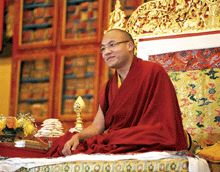 The last Karmapa, usually resident in Gangtok's Rumtek Monastery, passed away in 1981, and the search for his successor and the 17th Karmapa ended, like the Dalai Lama before him, in Tibet, from where he fled to India in January 2000 as a young boy barely 14-years-old.
Trapped in the cross-fire between Chinese restrictions and accusations that he might be an indoctrinated "imposter" — part of the sect had recognised Trinley They Dorje as its Karmapa, while the larger view is that the spiritual leadership rests in the shape of Ogyen Trinley Dorje, with a few intellectuals suggesting that more than one Karmapa can manifest himself — Ogyen Trinley Dorje has remained out of the range of media glare while studying scriptures, science and psychology at the scenic Gyuto Monastery near the town of Dharamsala in Himachal Pradesh.
Yet, he looks remarkably fresh and has a sense of relaxedness about him as he ushers me in with a firm handshake. He's grown since he was presented before the world's media in 2000 after the arduous trek from Tibet, his face sunburnt, his feet blistered. As leader of the large Karma Kagyu sect and the highest Tibetan spiritual head in exile in India after the Dalai Lama, speculation refuses to die away that he will fill the political void when the Dalai Lama passes away.
Nine years after his flight to India, the Karmapa lives under tight security and access to him is watched closely by the Indian government, which has granted him political asylum. No one is allowed to photograph him, or record an interview electronically, on orders from the home ministry. But conditions have been relaxed to allow him to travel to monasteries in India, and he made a maiden visit to the US last year.
The People's Republic of China recognises Ogyen Trinley Dorje as the Karmapa and for long tried to woo him, especially as a child. They showered him with toys — his favourite, apparently, was a remote-controlled lorry — but he says he left China because his education was being restricted, and also because he was under constant surveillance. He can understand English but prefers to speak in Tibetan, and has picked up a smattering of Korean and Vietnamese. He also takes a keen interest in current affairs, as was obvious during this too-brief interview.
How would you summarise your nine years in India?
There is more than one reason for thinking that much has been received. There is the ability to interact with many Rinpoches (Buddhist spiritual heads). The prime achievement is the opportunity to interact with people from different countries.
What interests you apart from spiritual studies and how do you plan to further your education in that field?
All my background education is traditional. Lately, I have made an endeavour with psychology and environmental studies. So far, I have been able to attend a few conferences but there has been no real opportunity to pursue serious study in these subjects. I want to study modern science in the near future and I hope to enroll into a university for formal education. Modern science and Buddhist philosophy are complementary and beneficial to each other.
Are you able to get messages from your family back home in Tibet? It is said your parents are unwell.
At random, yes, I do get messages. My parents are in good health and occasionally they do send me messages.
You have maintained a distance from political activities in support of the Tibetan struggle. How long do you see yourself keeping to that stance?
It is difficult to say [since] one is not affiliated with politics. It is very much a part of life. The possibilities are there and a time might come [to engage more actively with politics]. I might engage in giving directives. I don't want to be a politician though. I want to be involved with matters of society.
At 23, you are in the age bracket of today's Tibetan youth. How do you want to engage with them?
From a very young age I have had a straight and direct connectivity with younger people. They also feel close to me, we have a close relationship. I find myself as a bridge between older times and modern times. We must not be carried away by the impact of modern times. We need a pure and pristine understanding of both times.
After coming to India, you said you felt restricted due to the government not allowing you to travel. How do you feel after your trip to America?
It was a very short trip, but a big opening of the door. It was relaxed and happy. I hope more such opportunities come.
What is your view of the many ongoing crises in the world today?
The world faces economic crisis and conflict, especially wars. Behind all this is man, his behaviour, of which we need to take stock. But these issues are less serious than the environmental crisis. Controlling population is a solution, but, again, the solution depends on behaviour.