Silence can be golden when dealing with local politics
by Larry Carson, The Baltimore Sun, June 14, 2009
Maryland Demoract State Delegate Elizabeth Bobo finds inner peace at retreat through 10-days of meditation
Baltimore, MD (USA) -- For a politician whose stock in trade is language and communication, staying silent for 10 days might seem like a nearly impossible task.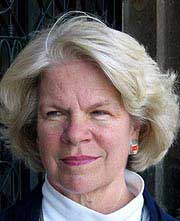 But silence and professionally guided meditation is something Del. Elizabeth Bobo has learned to love and use in recent years, she said, and she feels it helps her, both as a person and an elected official.
A strong personality and liberal Democrat well-known as a vigorous advocate for causes she believes in, Bobo, who represents a single member district mostly covering West Columbia, said she may not seem that different on the outside, but she's feeling more peaceful on the inside.
Bobo recently returned from her fourth annual sojourn into Vipassana meditation at a retreat near Richmond, Va., refreshed and ready again to plunge back into the environmental, health and progressive government issues she's specialized in for years, she said.
"It is really not at all difficult," the former Howard County executive said about keeping quiet all day for 10 days. She tried it after a neighbor's repeated recommendations, though she was skeptical at first.
"I just eased into it," she said.
Vipassana meditation is an ancient technique from India that is led by a Buddhist monk, though it is not a religious practice, according to the group's Web site. It's a form of mental training intended to develop a more healthy mental state leading people to become calmer and more focused. .
Bobo said the retreat day runs from 5 a.m. to 8 p.m. and includes three vegetarian meals a day, meditation and some instruction, but mainly a calming silence. Once back in their rooms at night, participants are allowed to speak or make occasional phone calls, she said.
"This teaches us how to be peaceful and happy," despite whatever else may be happening, she said. That means not getting angry if others don't agree or if a situation is frustrating.
"I really use that," she said. "It's had a huge impact on me."
In her political relations, "I don't get as strident as I used to be," she said.
"At this point in my life, at 65, the last thing I want to be is a force for divisiveness. I want to be a force for peace," she said. The lessons she's learned help her focus, concentrate and achieve clarity.
"If I say things, push things, promote things other people don't seem to want, I don't get angry. It's absolutely huge. Pain is unavoidable, but suffering is optional," she said.
Her ride to the retreat provided the perfect opportunity to practice, she said.
Stuck in bumper-to-bumper Memorial Day weekend holiday traffic as she drove south on Interstate 95, she didn't lose patience, even though it took four hours to go 20 miles, she said.
"I was able to think 'I'm on my retreat,' " and just take things as they happened.
"It was peaceful," she said.