Traveling down a more balanced path
By Sapna Pathak, The Boston Globe, August 16, 2009
St. John's O'Leary finds answers in Buddhism
Boston, MA (USA) -- The son of devout Catholics, Jimmy O'Leary spent his Sundays as a child at his family's local church, where he was baptized and received his First Communion.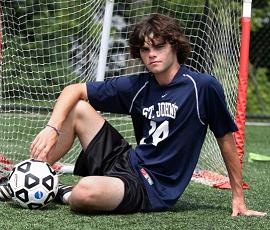 << Jimmy O'Leary will be a starting sweeper/stopper for St. John's Prep's Eagles this fall. (Jonathan Wiggs/ Globe Staff)
But when it came to improving his game on the soccer field, and tuning his mental approach, O'Leary turned to Buddhism.
"I don't know, it just helped me look at things from different points of view,'' said O'Leary, entering his junior year at St. John's Prep, an all-boys Catholic school in Danvers.
"I can collect myself more, I'm more grounded during a game, and I'm taking a different mental approach than I was before. It's touched on a lot of my life, really, not just soccer.''
This fall, the North Reading resident plans on taking his interest in Buddhism to the classroom; he has spent the summer working with his teachers to detail an independent study in Buddhism to add to his schedule.
O'Leary returns to the St. John's pitch as a starting sweeper/stopper for an Eagles squad that advanced to the Division 1 North final last season. Last month, the 16-year-old competed in his second Bay State Summer Games, joining the Northeast team a few weeks after wrapping up the spring season with his club team, the FS Vikings.
O'Leary discovered Buddhism prior to his sophomore season. The ancient Eastern religion piqued O'Leary's interest enough to prompt him to head to the library regularly to read books and articles on the subject.
By the start of the season, he was applying Buddhist principles to soccer.
Rene Novoa, his coach with the FC Vikings, noticed a difference.
"He was always a good leader, but he always wanted to make things happen and wanted to be the one who did it,'' said Novoa, who began coaching O'Leary six years ago. "All of a sudden, he was more calm, he was more collected when things didn't go his way. He's developed into my go-to guy, but his mental maturity is now catching up with his physical skills.''
Novoa named O'Leary captain of the Vikings, a title he will most likely earn for his senior year at the Prep.
O'Leary is currently reading "The Middle Way,'' written by the Dalai Lama, which teaches one not to live in the extremes, but to remain balanced at all times.
A speedy, agile defender at 5 feet 8 and 150 pounds, O'Leary even imparts this balanced outlook to the children he works with as a camp counselor at St. John's Camp Christopher.
"I find myself thinking more comparatively, like what would a Buddhist do versus what a Christian do in certain situations,'' said O'Leary. "That helps me make choices, both on and off the field.
It's all about balance, there has to be a balance during a soccer game with who is doing things. I'm trying to keep everything balanced.''
O'Leary's family also has added more balance to their daily routine. In May, his father, Steve, accompanied him to Gillette Stadium to hear the Dalai Lama speak. The next day, the pair went to church.
"We think it's great he's being exposed to new ideas and new concepts,'' said Steve O'Leary. "We raised the boys Catholic, but that doesn't mean they can't learn new things that make them better people. Jimmy's definitely learned a lot, and tried to use those things to become a better student and soccer player, so it's great.''
In the classroom, O'Leary is a member of the National Honor Society. He started sports at a young age, playing basketball, soccer, and baseball until high school before deciding to focus solely on soccer.
In two years, he hopes to play soccer in college, looking at Northeastern where his brother, Kevin, a former three-sport athlete at the Prep, will be a sophomore this fall.
As for the upcoming season, his third on the varsity roster, O'Leary simply wants to continue where he left off.
"I've never been the fastest or the strongest kid on the field, but I've learned you can make up for that with your mental game,'' said O'Leary. "That's sort of the path I was on last fall, learning that it's all about your perspective and how you look at things. I think more, I anticipate what a defender is going to do and how I'll react. I'm working on being a smarter player.''