Is 115-year-old Buddhist monk Luang Phu Supha the world's oldest man?
By Mail Foreign Service, 18th September 2009
Phuket, Thailand -- He was born when Queen Victoria was on the British throne. But whether Luang Phu Supha is really the world's oldest man remains open to debate.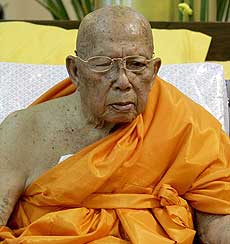 << Revered: The abbot has many followers who believe his advanced age makes him particularly wise
The Buddhist monk claims to be celebrating his 115th birthday today at a temple in Phuket, Thailand.
He is certainly likely to provide some hot competition for American Walter Bruening, 113, who has also laid claim to the coveted title.
Luang Phu Supha's birth was only registered two years after he was born and the certificate reads 17 September 1896.
Henry Allingham
No doubts: Henry Allingham was the world's oldest man when he died earlier this year at 113
This would also made him older than Bruening - but only by four days.
Luang Phu Supha lives at the temple on Phuket where he is abbot. The site is, appropriately enough, named after him.
The monks now intend to invite Guinness records representatives to verify their abbot's claim.
He puts his longevity down to eating less, speaking less and always speaking the truth.
Luang Phu Supha seems particularly serious about eating less and only consumes nine mouthfuls at each meal as well as avoiding spices and salts.
He is, however, partial to khao neaw kaew, a desert made of sticky rice with sugar.
Bruening, who celebrates his birthday on September 21, laid claim to the title after the death of Briton Henry Allingham.
The World War One veteran died in July at the age of 113.
He had only held the title for a few weeks after the death of Tomoji Tanabe at 113 on June 19.
The world's oldest person - a woman - is Kama Chien, 114.