Sir Cyril de Zoysa: Patriot and devout Buddhist
by Sumana Saparamadu, Sunday Observer, Feb 28, 2010
Colombo, Sri Lanka -- Sir Cyril de Zoysa was a business magnate (wealthy and powerful businessman) a great patriot (one who loves his country) and a devout Buddhist.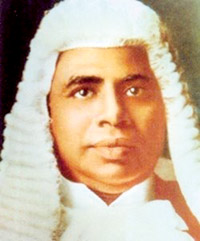 << "However much wealth you possess it is all empty. My wealth is my contentment. My strength is the Buddha Dhamma."
(Felicitation Vol on his 80th birthday).
Sir Cyril and the Kalutara Bodhi are so closely connected that it is impossible to speak or write about one without mentioning the other. But, for Sir Cyril's vision, dedication and determination, the Kalutara Bodhi would not be the shrine it is today and there would be no magnificent dagoba on the hillock.
I gave an account of Sir Cyril's contribution to this shrine in the Junior Observer of December 5, 2009.
When Sir Cyril started the Kalutara Bodhi Society in 1931 he was just another lawyer practising at the law courts in Kalutara which was not his birth place. He was born in Welitota, Balapitiya on October 10, 1896, as the second son of Solomon and Harriet de Zoysa.
He started schooling at St. Thomas', Matara where his father had started practising as a notary. He next went to Richmond College, Galle and ended up at Royal College, Colombo where he was a keen cricketer.
On passing the Senior Cambridge exam (the equivalent of today's A/L exam), in 1916 he joined the Law College. Like many other students he took up a job as a teacher - at Wesley College - to earn his college fees. He spent his first salary not on good clothes or other personal needs, but to buy a buggy cart and bull for his father who walked daily to his office in town. What a caring son!
He passed out as a proctor in 1921 and started practising in the Magistrate's Court in Balapitiya and then moved on to Kalutara which became his home town. He soon built a lucrative (very profitable) practice and became well-known as an honest and clever lawyer. While practising in the Kalutara Courts he became interested in the Bodhi by the Kalu Ganga estuary where people, mainly from the lower middle class and working class were making their daily devotions, and decided to make it a proper shrine. Today, the dagoba rising sky-high on the hillock is seen far out at sea, a symbol of Buddhism.
The Kalutara Bodhi was not the only shrine that received Sir Cyril's attention and benefited from his generosity. When he first saw the Kiri Vehera at Kataragama it was just a mound of bricks. He joined the Kiri Vehera Sanwardana Samithi and set about collecting money for its reconstruction, in addition to making vast donations himself. The restored dagoba was crowned with a gilded pinnacle by the then Prime Minister, Dudley Senanayake on October 26, 1970.
Seeing that the walkway from the Kataragama Devala to Kirivehera was in darkness, he installed a generator to supply electricity to light up the walkway. So, now pilgrims can walk to and from Kirivehera to make their offerings after dark. He also built a pilgrims' rest at Kiri Vehera.
Besides helping many viharas, pirivenas and bhikkhus in Sri Lanka, he helped the Buddhist Vihara in London. The Kalutara Vidyalaya and Kalutara Balika Vidyalaya are monuments to his generosity. To ease unemployment and help build up local industry, he set up the Textile Weaving Mills at Balapitiya and a weaving centre at Kalutara.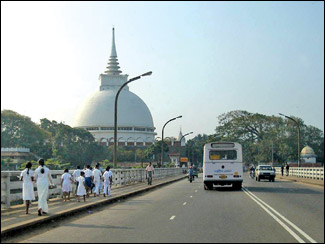 The magnificent dagoba in Kalutara >>
He wanted to work for the people and town of Kalutara. So he contested and won a seat in the Kalutara Urban Council. He became the UC Chairman in 1941. He also became interested in business. He bought a bus going half-shares with a friend. With the profits be bought another bus and another, and he soon had a fleet of buses plying between Colombo and Tissamaharama.
The fleet was named Swarnapali Bus Company.In the 1940s, buses plying on one route were amalgamated (combined) into one company. It was called the Nelson Plan after the man who introduced the scheme. All the buses plying between Colombo and Tissamaharama were amalgamated and the South Western Bus Co was born. With Sir Cyril at the head it was the most efficiently run bus company. Sir Cyril was the first to import double-decker buses to Sri Lanka.
In 1959, the buses were nationalised (taken over by the Government). South Western Bus Company handed over all buses, depots, garages and everything else belonging to the company without any fuss. The take-over of buses was a challenge that Sir Cyril took up with his usual courage and determination. He turned his head and hand to business. He took over the Lotus Corporation and started making bicycle tyres and tubes.
From then on there was no stopping. He started many industries, including the manufacture of Sisil refrigerators that were once very popular, and from these many industries and companies, the Associated Motorways Company was born.In recognition of his services, he was appointed to the Senate (the Upper House of the first Parliament) in 1947. He was appointed deputy president of the Senate in 1951 and president later. He was president for eight years.
Queen Elizabeth of England conferred a knighthood on him in 1953. From that day he became Sir Cyril de Zoysa. He was President of many associations from time to time; but the one association he gave his time and money most was, the Colombo YMBA. He was president for 18 years until his death in 1978. The hall at Borella was built with his own money and gifted to the YMBA in memory of his parents.
He gave away his wealth for social welfare, giving up his own house and spending the last days in a hotel. It is recorded in the YMBA's magazine The Buddhist that he has said, "However much wealth you possess it is all empty. My wealth is my contentment. My strength is the Buddha Dhamma. (Felicitation Vol on his 80th birthday).
He passed away on January 2, 1978. A stamp was issued in his honour in 1984.