Thurman illuminates Zen path
By ERIC BARTELS, Portland Tribune, Mar 18, 2005
Robert Thurman is the eminent American authority on Tibetan Buddhism
Portland, (USA) -- Buddhism, the first Westerner ordained as a monk by the Dalai Lama himself. But Thurman?s decades-long search for spiritual serenity hasn?t kept him from enjoying the movies ?Kill Bill: Vol. 1? and ?Kill Bill: Vol. 2,? on which his daughter Uma collaborated with hyperviolent filmmaker Quentin Tarantino.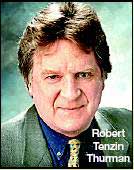 "They were quite marvelous, actually,? he says. ?I couldn?t be prouder of all the work our wonderful daughter has done.?
Tarantino?s oeuvre doesn?t exactly conform to the enlightened dharma of the great historical figures cited throughout Thurman?s new book, ?The Jewel Tree of Tibet.?
But Thurman, 64, seems at peace with Tarantino?s explanation that the almost cartoonish mayhem of his films actually creates an aversion to violence in moviegoers.
?Quentin kind of insists that the violence is meant to turn people off,? he says. ?We were a little disturbed at the level of it, but that is Quentin?s thing.?
Thurman, a professor at Columbia University, will be in Portland tonight to promote his new book, an expansion of a retreat he led several years ago. It?s a sort of ?how to? guide for employing millenia-old teachings against the stresses and anxieties of modern life.
Buddhism remains something of a mystery to most Americans, Thurman says.
?Buddhism does not have the compulsion to run out and convert people. It is a way of understanding things rather than belonging to some group,? he says. ?The Dalai Lama is exceptional in that he says in the modern period world religions should give up the competition for followers.
?Sometimes belief, if it?s too intense, can be like a disease. Like fundamentalism. That?s a real danger on the planet.?
Thurman says religion may be on the rise as people seek answers to a confusing postmodern world.
?The economy, terrorism, the incompetence of various governments, corporate misbehavior, pollution ? some of the negative trends in the world lead people to want inner peace,? he says.
?All of these things are pushing to the brink. People are seeing more and more the need for self-control, more sane behavior.?
The first order of business, Thurman says, is for individuals to ratchet down their own stress levels. Here, he says, is where the quiet reflection and honest self-examination found in Buddhist teachings comes in.
?It?s not just simply another religion,? he says. ?What it has to offer is a very sophisticated methodology and psychology of self-transformation.?
He says meditation, seen by some as a crackpot devotional exercise, is proving itself to the scientific community.
Thurman points to the work of University of Wisconsin neuroscientist Richard Davidson, whose studies have shown actual changes in brain patterns with the development of meditative ability.
Jon Cabot-Zinn of the University of Massachusetts has determined that the principles and practices of hatha yoga reduce anxiety and depression, thereby alleviating mental illness.
Thurman says all manner of social ills ? family violence, road rage, heart attacks ? are products of the unenlightened mind.
?It?s a toxic thing, uncontrolled emotion,? Thurman says. ?Buddhism can offer tremendous methodology.?
Thurman recognizes that barriers stand between Eastern belief systems and the Western mind. ?Anything new that they?re unfamiliar with,? he says of Westerners, ?they take one aspect of it and they get confused by it.?
?The Jewel Tree of Tibet? is filled with such puzzling notions. Adversity is to be seen as an opportunity for self-realization. Every individual is, in fact, God. And the world we live in is a perfect ?bliss state.?
But despite its slightly complex cosmology, Thurman says, Buddhism is nothing more than a blueprint for self-transformation ? not a religion but ?merely a set of responses to the needs of beings.?
?It?s not a Pollyanna thing,? he says. ?It?s the basis of all religions.?
Robert Thurman talk and book signing, 7:30 p.m. FRIDAY, March 18, Powell?s City of Books, 1005 W. Burnside St., 503-228-4651, free