Rafael Nadal Performs Buddhist Ceremony In Thailand
Luxury Travel Magazine, September 30, 2010
Hua Hin, Thailand -- The world's number one tennis player and three-time 2010 grand slam winner, Rafael Nadal, participated in an ancient Thai Buddhist ritual by presenting alms to monks on the beach during his recent stay at the luxurious InterContinental Hua Hin Resort.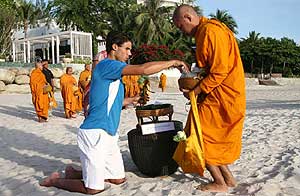 Nadal elected to stay in the resort's La Résidence Royale Hua Hin presidential villa and happily led the ceremony on the beach right outside his room in the lead up to the property's official opening in November.
The champion player is in the country for the Thailand Open and took the time in Hua Hin to rest and recuperate in a relaxing, yet opulent, environment after a stellar year that has so far yielded the US and French Opens and Wimbledon.
"Thailand is a beautiful country and taking part in this ceremony on the beach in Hua Hin with the monks has been a special part of my trip so far," Mr Nadal said.
"Taking the time to come here after winning the US Open was a great decision while learning more about Hua Hin and Thailand's hospitable culture and the importance of these ceremonies."
La Résidence Royale Hua Hin is a restored 19th century period standalone house set on half an acre personifying elegance and regal living. The building has two stylish bedrooms furnished with local art and Thai design with large en-suite marble-finished bathrooms, separate living and dining areas, a spacious garden, infinity pool and full-time live in personal butler on call 24-hours a day.
The luxurious 119-room InterContinental Hua Hin Resort is located two and a half hours by road from Bangkok, or 35-minutes by the property's private aircraft.