Teachings of Buddha
By MAJORIE CHIEW, The Star, December 12, 2010
Buddhism is not a 'woo woo kinda thing', in the words of this engaging American author!
Petaling Jaya, Malaysia -- GARY Gach is an author, translator and poet – and most unusually, he's Jewish and a Buddhist.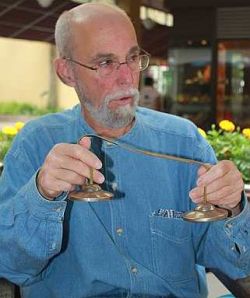 << Gary Gach ringing Tibetan tingsha (cymbals), calling everyone at his interview to 'be in the present'. – Photo courtesy of Lim Kooi Fong/The Buddhist Channel
"I was born a Jew and being a Buddhist is how I fulfil my Jewish mitzvot (obligation to life and God).
When I remark that there is no God in Buddhism, he assures me, "it's okay if you believe in God or if you don't," and goes on to emphasise an important point that non-Buddhists (and even many Buddhists) might not be aware of: "Buddhism is not a religion."
"I can be a Jew who practises Buddhism or a Buddhist who practises Judaism. You don't have to be a Buddhist to enjoy the Buddha's teachings," he says.
In fact, according to Gach, 63, a recent survey in the United States found that one in every eight people have heard some teachings of the Buddha that have influenced their lives. Buddhism is growing all over the world, insists Gach.
Perhaps that is because, according to the author, Buddhism is easy to grasp: "All the teachings about Buddha is about suffering and liberation. When we understand how our mind, attitude and lack of awareness can create seeds of suffering, we can also learn how to liberate ourselves and generate peace and joy.
"It's not an ideology to kill, fight or die for. It is about our own lives. The truth is found in our own life– it's that simple!"
Gach believes in this so much that he wrote the best-selling The Complete Idiot's Guide to Buddhism, published in many languages including Chinese, French and Russian and now in its third edition.
He is also editor of an anthology of poetry, What Book!? Buddha Poems From Beat to Hip-Hop with 125 contributors; the book was published in 1950, won the American Book Award in 1999, and is currently in its third print. Gach has also co-translated three books by Zen master Ko Un, South Korea's prolific "unofficial poet lawyer".
The American doesn't just write about Buddhism, he also shares it in person with as many people as he can by, among other things, teaching Practical Buddhism as part of the continuing studies programme at California's prestigious Stanford University and holding a regular study group in San Francisco on the subject. Since 2006, he has also been a teacher of "mindfulness meditation" at San Francisco's Church for the Fellowship of All Peoples.
How did an American become so interested in this Eastern way of life?
Gach says that at six, he had a "mystic vision" and at 11, he read The Way of Zen by Alan Watts, a British philosopher, writer and speaker who popularised Eastern philosophy for a Western audience from the 1950s to the 1970s.
"One of the most interesting things of the 20th century is the coming of Asian culture and spirituality to the West," he says, explaining how his Zen master, the late Shunryu Suzuki Roshi, established the first Zen monastery in America because in Japan at that time, Zen Buddhism had become hardly more than ceremonial rituals in many respects.
"He (Suzuki) saw Americans making a pilgrimage to Japan and devoting themselves to 10 years in a monastery because they had read about Zen and wanted to practise it. He wanted to nourish that enthusiasm."
Gach provokes thought with a question: "Do you think there's a Western influence that's deepening Eastern Buddhism, and that Eastern Buddhism has gotten shallow?"
He explains: "What's interesting in Western Buddhism is its practice. It's not intellectual, abstract or theoretical. Buddhism is not pie in the sky, it's an enlightened way of living, of being conscious."
When life gets difficult and emotions threaten negativity, he advises: "We should hold onto the trunk of mindfulness while the storm of emotions blow our leaves, knowing that we have firm roots."
Practices like mindful breathing are simple yet have valuable insight into the nature of concentration, wisdom and compassion, he says.
Gach feels there is a great need in the world for "compassion with separatism and discrimination" in people's minds and in organisations, governments and religions – and especially among people who are narrow-minded.
"All religions say, 'love God as your only God', live life fully and, do unto others as you would do unto yourself. What the Buddha offers is a way to access that and practise that all the time. You don't have to go to church, you don't have a reverend to tell you how to do it."
He reiterates, Buddhism is simple: "Just be kind to yourself and other people and you'd be realising the teachings of the Buddha."
And despite being a prolific author (who is also published on the Internet) on the subject, Gach points out that Buddhism is not found only in a book: "The Buddha is in our heart. If he's not living in your heart and you just read books about Buddhism, you're a spoon that never taste the soup."