Silence is golden at Zen Buddhist Temple
by Ann Dwyer, AnnArbor.com, Jan 27, 2011
Ann Arbor, MI (USA) --If asked about the Zen Buddhist Temple on Packard Street in Ann Arbor, most people would probably think of the wall that separates the temple from the street.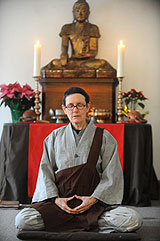 << Rev. Haju Sunim
"The wall is there not to separate us from the rest of the town," said senior member Catherine Brown of Ann Arbor.
It serves, instead, as noise barrier. Silence plays a key role in a Zen Buddhist service.
Rev. Haju Sunim in front of the altar in the meditation room at the Zen Buddhist Temple on Packard Road in Ann Arbor.
Angela J. Cesere | AnnArbor.com
Upon entering the temple, those in attendance sit in quiet meditation for about 20 minutes. This is repeated at the end of service.
Meditation is integral to the Zen Buddhist belief system. Meditation is how Siddharta Gautama reached enlightenment to become the first Buddha, according to tradition.
Kim McCusker of Dearborn Heights believes meditation should be a part of everyone's life.
"You want to talk about some good relaxation," she said. "It gets you thinking the right way."
McCusker found Zen Buddhism after realizing that the Catholic church she was attending was not for her. After attending Zen services, she said, "I felt completely where I was supposed to be."
She says that she doesn't proselytize but instead finds that her actions have an impact on those around her, including her children. Sometimes it is just a change in language, such as blaming others for situations. At the very least, she said, they notice when they use negative language.
Even if "Zennies" don't reach enlightenment in this lifetime, it does help settle "monkey brain," a term used to describe the many thoughts that can be distracting and stressful.
The "sangha," or community, sit either on cushions, benches or chairs. No one wears shoes. A shrine with offerings of food and flowers is the only ornate part of the room.
In between meditation sessions, the Rev. Haju Sunim leads members in a bit of chanting, followed by a Dharma talk. Dharma talks are discussions about Buddhist topics such as kindness and community.
Community is what keeps members like Catherine Brown, a professor at the University of Michigan, coming back.
"There's a wonderful feeling of community," she says. "People who share a commitment to silence. And there are very funny people at the temple."
"They get together and get things done," said McCusker.
During the warmer months, they work together on the garden located on the grounds.
"The garden in the summer is huge, just from all the energy there," said McCusker.
Brown says that the Rev. Sunim is one of the things that holds the community together.
"She's dedicated, has a great sense of humor, wisdom. She's very earthy, very honest."
Sunim has lived in Ann Arbor since 1982. She was ordained in 1989.
Those considering attending the services do not need to be Buddhist.
"This is a welcoming a place. It's not a monastery," said Brown.
"You have to go to a service," said McCusker. "It's something you just can't explain."
Just don't wear tight pants, reminds Brown to those who might attend. Because of the sitting and light stretches, she says it is best to wear comfortable, loose fitting clothes.