Messenger of Peace
By Shanika SRIYANANDA, The Sunday Observer, Jan 22, 2011
Vavuniya, Sri Lanka -- He explains how he started his mission. The two boys, who got the chance of digging into his briefcase, are happy as they found a colourful pen.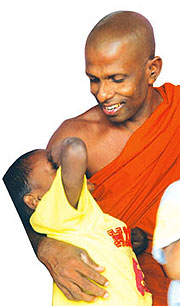 They disturb him, but he continues to express himself on his task of moulding them into good citizens.
Suddenly, he is pushed by the two naughty boys and has a narrow escape without falling from the chair.
"Santhush... puthe dangalanna epa (Son, don't be naughty)", with a word of caution to the two youngsters, he starts explaining his mission again.
The two meekly disappear under the huge wooden table. The mischievous little Santhush creeps out and covers his face with a part of the saffron robe.
"I started the children's home in 1995 with a Tamil child who was abandoned by his parents. I did not know what to do, but my mother insisted on taking care of the child. She willingly started looking after the two-year-old Kuganeshan brought from Sidambarampuram, Vavuniya. His parents had abandoned him as they could not afford to look after him," he says.
Since then he became the 'father' and his mother became 'amma' for nearly 500 'unwanted and abandoned' Sinhalese and Tamil children.
Santhush grabs my notebook and tries to control the pen to draw a circle. He draws a pair of eyes on the paper. "Me handa hami (This is the moon)", the boy says.
"He is the naughtiest", the 'father' says.
This 'father' is Ven. Atambagaskada Kalyanatissa Thera, who now has 64 'sons' at the Sethsevana Children's Home. "All are my sons and I will do my best to keep them happy", he says.
Though the small ones are naughty and annoy him, he says he will never scold them as they need parental love to grow up properly.
Sometimes they call him 'Thaththa', but to many he is Ape hamuduruvo (our priest).
Santhush, who is very much attached to the Thera, always wants to be cuddled by him. The small boys wait eagerly for him as he brings sweets for them when he comes 'home' after work.
No burden
For Sumanawathi, Ven. Kalyanatissa Thera's mother who has seven children, the small ones are not a burden. In her 70s, she is always busy looking after the children. She cooks, feeds, bathes, washes their clothes, teaches, sings when they cry, nurses them and looks after the small ones who are under five years.
She is assisted in cooking by one of her daughters-in-law. "I am proud that I am able to raise these children. Whether they are Tamil, Muslim or Sinhalese, I will continue to be their mother as long as I can. I will raise them and teach them good moral values the way I taught my own children", says Sumanawathi, who thinks it's a blessing that she could be an 'amma' to hundreds of children who yearn for love and care.
Ven. Kalyanatissa Thera, who first refused to grant us an interview, said he does not want to 'market' the children and needed to continue his silent mission to give the parental love that these children had lost.
"When they first came here, they were restless and crying for their parents. The small ones are always with my mother who looks after them like a real mother", he says.
Sasindu was brought to Sethsevana when he was two weeks old and Darshana when he was three months. Sumanawathi, despite her old age, had to perform a young mother's role to bring up the two tiny tots.
"I had many sleepless nights as they were crying for mother's milk", she says while Darshana, Sasindu, Santhush and Karan hold her hands.
"Mage puthala gihin kiri bonna. Naawata passe hithalaine (My sons, go and drink your milk as it is cold after a bath)," the Kiri amma says to the four boys who are after a shower.
As they are dragging her hands, she says she would leave with me to Colombo. The four start crying, "Kiri Amma, yanna epa", (Please don't leave, mother). Given the assurance they will be good and drink the milk, Sumanawathi promises that she will stay with them. Holding hands, the four creep into the kitchen.
The conflict brought the biggest devastation to the children. They suffered the most. The deadly mental scars of the war still traumatise them. Ven. Kalyanatissa Thera says the children brought from conflict-affected areas lived in constant fear and were disturbed even by the slightest noise.
"They had been exposed to the war for a long time and the healing process is slow. We had to be with these children all the time to give them the feeling that they are now secure", he says.
Some of these children don't have birth certificates and have been given names by the Thera. He believes that the two-year-old little boy Santhush is from a wealthy family who lived in Mullaitivu. He was found in the Nandikadal lagoon area in 2009 by a soldier during the humanitarian operation.
With a head injury, he was brought for treatment to the Colombo Lady Ridgeway Hospital from the Vavuniya hospital. Finally, he was handed over to Sethsevana by the Courts.
Charming smile
The little boy who knows nothing about his past always wears a charming smile. Santhush is the pet at Sethsevana.
He always runs behind his 'thaththa' and murmurs Buddhist gatha that the boys of Sethsevana chant every morning.
They are fluent in both Sinhala and Tamil. They learn about the world through Buddhist teachings.
Of the 64 boys at Sethsevana now, only seven are Sinhalese. The majority, being Tamils, have experienced the bitterness of war and poverty. But today they are learning to be happy and live together.
Kaneshan (16) from Kilinochchi lost his mother and lived with his two brothers and two sisters at a welfare centre. Later, he was brought to Sethsevana along with his two brothers.
"I want to study well and find a job. My only hope is to have a family with my two brothers and two sisters", he says while getting ready for an extra mathematics class.
They attend the Atambagaskada School while the smaller ones attend the nearby montessori. The children start the day according to a timetable. All have to get up before 5.30am and worship the Buddha.
Feeding 64 mouths, providing them clothing, study material and other things is not an easy task for this Bhikkhu. "I use my salary from Seva Lanka Foundation and also donations from well-wishers and the military in Vavuniya", he says. He is grateful to 56 Div. Commander Brigadier Priyantha Napagoda for finding donations.
There are days Ven. Kalyanatissa Thera finds it difficult to keep the 'home' fires burning. He needs over Rs 6,000 daily to look after the children at Sethsevana.
Ancient temple
A part of the ancient Sri Sudharmarama Temple in Atambagaskada was turned into the Sethsevana Children's Home. The Atambagaskada village was frequently attacked by the LTTE and villagers fled their homes in 1986 as the terrorists attacked the village.
In the 1990s, the chief incumbent of the Temple with the help of the late Maj. Gen. Denzil Kobbekaduwa resettled 114 families.
The Thera says that Sethsevana is not a children's home, but a 'home' where children live together as one family.
"These children step into the outside world from Sethsevana with an unpolluted mind and don't know divisions. I always teach them that the world is one family and we are all equal", Ven. Kalyanatissa Thera says.
Like Sri Lanka, which is trying to stand up from decades-old devastation, these children too are trying to stand on their own and aspiring for a brighter future. The memory of a bitter past is slowly fading away in a home which is wrapped with love, care and peace.
As Ven. Kalyanatissa Thera says, the doors of Sethsevana are always open for 'unwanted' children. "I can be a father to them. They are precious gifts to me", the Thera calls upon parents not to leave their 'unwanted' babies on roads or kill them, but to leave them at the doorstep of Sethsevana where they will find their life.
With the dawn of peace after 30 years, people in the South as well as the North are living in a united country and Sethsevana, where love and care have no caste or creed will herald the message of unity. One day they will step out of this 'home' as messengers of peace.
You may be spending thousands of rupees to make your family happy. Sri Lankans - Tamil and Sinhala diaspora- may be looking for places to donate money and uplift the lives of those affected by the war. But.... If someone could lend a helping hand in the new year to make children like Santhush happy, it is the best new year gift one can think of.